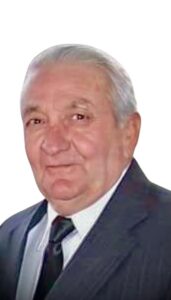 Thomas L. Hayslip
March 29, 1938 - October 27, 2021
Thomas L. Hayslip, Sr., 83, of Seaman, Ohio passed away October 27, 2021.  He was born March 29, 1938 to the late Lloyd and Ida (Price) Hayslip. He is preceded by one daughter, Tammy Jones; one son, Thomas L. Hayslip, Jr.; two grandsons: Jr. Hayslip and Zachary Richardson; four brothers: Ray Hayslip, J.B. Hayslip, Bobby Hayslip and Junior Hayslip; one sister: Gloria Jean Fenton and one daughter-in-law, Sheila Deatley.

Thomas is survived by five daughters: Debbie (Neil) Morrison of West Union, Rita Kernodle of West Union, Beth Hayslip of Ocean View, Delaware, Crystal James of Wilmington, Delaware and Vickie Hayslip Barr of Manchester; One son, Lloyd (Angel) Hayslip of West Union; three sisters: Ocie (Ron) Bunch, Janet (Joe) Risch and Carol (Ed) Salisbury;  two sisters-in-law: Shelda Hayslip and Patty Hayslip; one brother-in-law, Denver Fenton; 20 grandchildren; 31 great grandchildren and a host of nieces and nephews.

Thomas was a construction worker and worked at a sawmill for many years.

Memorial donations can be made to:

Jefferson Community Center, 8996 Blue Creek Road, Blue Creek, Ohio 45616

and / or

Jefferson Alumni Scholarship Fund C/O Linda Stepp, Treasurer, 13370 State Route 136, Winchester, Ohio 45697

A private graveside memorial service will be held on Sunday, November 14, 2021 at Copas Cemetery in Brush Creek Township in Adams County. The Adams County Honor Guard will perform a military graveside service.

Lafferty Funeral Home Incorporated is serving the family.
Condolences
Phil and Vicki Rhonemus - Nov 12, 2021
Dear Hayslip Families, Keeping all of you in our thoughts and prayers at this time. Sincerely,
Harriet DeMint - Oct 31, 2021
Tom was a lot of fun in the tobacco field when he helped my Dad. He was always in a good mood no matter how hard the work was and so friendly. Saw him in the greenhouse a few times recently and enjoyed our conversations about growing tomatoes. Prayers for the family.
Don & Sarilee Williams - Oct 30, 2021
So sorry. Tommy had a special place in my heart from a young child on the farm at Cedar Mills. Thoughts and prayers for the family.