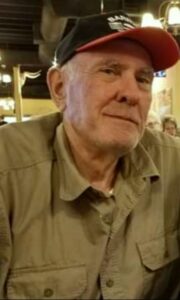 Samuel R. "Sam" Hilderbrand
August 12, 2020 - July 29, 2020
Samuel R. "Sam" Hilderbrand, age 73 of Manchester, Ohio, passed away peacefully at home, surrounded by loved ones, Wednesday, July 29, 2020.  He was born August 12, 1946 in West Union.  He was preceded in death by parents, Robert Vernon Hilderbrand and Oma Daye Hilderbrand; wife, Reva Watts Hilderbrand; two brothers: Robert "Bud" and Floyd "Pete" Hilderbrand.

Sam is survived by two sons: Samuel Hilderbrand (LeAnn) of Seaman and Joshua Hilderbrand (Jessica) of Manchester; three daughters: Oma Morgan of Indianapolis, Indiana; Leah Lainhart of Ripley and Maria Clifford of Winchester; one sister, Edna Shumate of Manchester; 20 grandchildren, 11 great-grandchildren and many nieces, nephews, family and friends.

He retired from the United States Army after proudly serving our country and receiving the Purple Heart Medal.  The Purple Heart Medal is awarded to members of the armed forces of the United States who are wounded by an instrument of war in the hands of the enemy.

The private visitation was Sunday, August 2, 2020 at Lafferty Funeral Home in West Union.

Adams County Honor Guard performed a military service.

In lieu of flowers, memorial donations can be made to:

Wilson Children's Home, 300 N. Wilson Drive, West Union, Ohio 45693

Lafferty Funeral Home Incorporated of West Union is serving the family.
Condolences
Richard Crawford - Aug 16, 2020
So sorry to hear of Sam's passing. He was a good neighbor. Always enjoyed visiting with him and Reva occasionally.
Deannaa Knauff - Aug 9, 2020
I am so sorry to hear of Sam's passing. We worked together at Killen for several years. Sam was so fond of his family and shared many stories of them. I know you will all miss him. May you rest in peace Sam.
Dwayne Jean CurlessI - Aug 3, 2020
I worked with Sam for many year he was a fine man just like a brother he will be missed by his family and friends
Dwayne Jean CurlessI - Aug 3, 2020
I worked with Sam for many year he was a fine man just like a brother he will be missed by his family and friends
Rebecca Hodge - Aug 3, 2020
Sorry for your loss,he will be greatly missed
JoAnn Hilderbrand - Aug 2, 2020
So sorry for your loss here if u need me