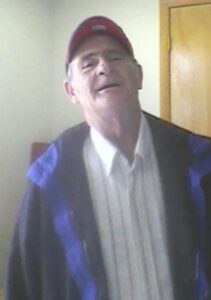 Samuel Gregory Taylor
October 15, 1945 - September 5, 2023
Samuel Gregory Taylor, 77, of Winchester, Ohio passed away on Tuesday, September 5, 2023 at The Christ Hospital in Cincinnati. He was born October 15, 1945 in Lynx.  He is preceded in death by wife: Joyce Taylor; one daughter, Mary Jean Taylor Copas; one grandson: Austin Taylor; parents: Elva and Nellie Ruth (Hayslip) Taylor; two brothers: David Taylor and Mike Taylor and one son-in-law, Danny Copas.

Sam is survived by four sons: Eddie Wayne Taylor of Seaman, Kevin Gregory (Kelly) Taylor of Winchester, Steven Wayne (Pat) Taylor of Piketon and Jason Leon (Jessica) Taylor of Maysville, Kentucky; eight grandchildren: Briana, Maddie and Braydon Taylor, Patricia (Johnny) Newman and Ashley Taylor-Ricketts, Daniel Copas and Heavenly Copas; six great grandchildren: Austin, Blaklynn, Bryson, Johnny, Savannah and Emma; one sister, Dorothy Bentley of Columbus; one brother, Johnn Taylor of Antioch, California and many nieces, nephews, cousins and friends.

Sam worked for ABCAP for 35 years.  He has spent his later years playing horseshoes, softball, fishing, watching old westerns and listening to old county music.  He loved his family dearly and will be miss by all who knew him.

The public visitation is 4 – 6 PM Sunday, September 10, 2023 at Lafferty Funeral Home Incorporated, 205 South Cherry Street, West Union, Ohio 45693.

The public funeral is 6 PM Sunday, September 10, 2023 at Lafferty Funeral Home. Jerry Davis will officiate.

Mr. Taylor will be cremated following the services.
Condolences
Shonnie Espinoza - Sep 10, 2023
You will be missed. Thanks for being a loving brother to Mom (Dorothy Ellen/Dot)
Johnn Taylor - Sep 9, 2023
When we were both young we ran the thru the hills of Mahogany and loved life. How we are both older and some of us has traveled to our final destination where we won't grow any older. You have gone ahead of me and Dot. Don't be sad if we are sad because your not here. Dear brother rest in the arms of a loving Savior. Until we meet again I say love you.
Joe Taylor - Sep 9, 2023
Until we meet again Uncle Sam until we meet again.
Johnnie - Sep 9, 2023
Rest in Peace Uncle Sam. Even though I was not able to meet you, I loved you and loved hearing all the stories my dad would tell me of you and the conversations you would have. I hope you are having fun and loving being pain free in heaven with the rest of Taylor bunch.
Cindy Bentley Deming - Sep 8, 2023
You will be missed Uncle Sam.
Debbie Lute - Sep 8, 2023
Rest in peace Uncle Sam. Say hi to the heavenly family for me . I bet they have a really great TV up there lol. Until we meet again.
Donna (Lute) Glenn - Sep 8, 2023
I'm going to miss my buddy . Til we see you again Uncle Sam, give the family hugs from us, and behave yourself 😉Love, Red
Christopher Beam - Sep 8, 2023
Rest In Peace Sam
Maddie - Sep 8, 2023
I love you papaw sam forever ❤️
Steven Taylor - Sep 8, 2023
Sorry that we forgot aunt Linda and aunt Pam alot happened today they proceeded dad in death also
Lorren and Brenda Nehus - Sep 7, 2023
Very sorry for your loss, praying for the family 🙏🙏🙏