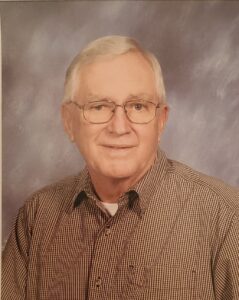 Richard Lynn Dunkin
January 2, 1936 - December 24, 2020
Richard Lynn Dunkin, age 84, of West Union, Ohio, died Thursday, December 24, 2020 at his residence.  Richard was born January 2, 1936 in Blue Creek.  He was preceded by parents, Harry and Bessie (Hawkins) Dunkin; wife, Bessie Irma (Shivener) Dunkin; one infant son and two brothers: Alan and Eddie Dunkin.

Richard is survived by one daughter, Tammera L. (Gary) Young of West Union; three sons: Randy Dunkin of Maysville, Kentucky, Timothy (Judy) Dunkin of West Union and Keith Dunkin of West Union; eleven grandchildren: Tracy, Jennifer, Kyle, Matt, Troy, Sarah, Catherine, Sophia, Brandy, Andrea and Dawndala; sixteen great-grandchildren; one great-great grandson and several nieces and nephews.

Richard served 4 years in the United States Air Force during the Korean Conflict.  He retired from the United States Postal Service.  He was a member of the West Union Masonic Lodge # 43 and The West Union Church of Christ.  He spent many years as a volunteer emergency medical technician and loved spending time with family and friends.

In lieu of flowers, memorial donations can be made to:                                                             Humane Society of Adams County Incorporated                                                                             P.O. Box 245, West Union, Ohio 45693                                                                                                                     or                                                                                                                                     The West Union Church of Christ                                                                                                      270 Lloyd Rd., West Union, Ohio 45693

The public walk-through visitation is 11 am - 1 pm Tuesday, December 29, 2020 at Lafferty Funeral Home, 205 South Cherry Street, West Union, Ohio 45693.

The public graveside funeral service is 2 pm Tuesday, December 29, 2020 at Moore's Chapel Cemetery, 2646 Wintersteen Run Road, Blue Creek, Ohio 45616. Pastor Dennis J. Grooms will officiate.

A Military flag presentation will be performed by the Adams County Honor Guard.

Please follow Covid-19 requirements and wear a mask.

Lafferty Funeral Home Incorporated of West Union is serving the family.
Condolences
Phillip and Vicki C. Rhonemus - Jan 1, 2021
Dear Dunkin Family, Keeping all of you in our thoughts and prayers at this time. Richard was our mailman for many years as kids and also when we moved back to Adams County. He always was willing to have a few words of conversation with us or go beyond the call of duty. He will be missed. Sincerely,
John T and Elaine Lafferty - Dec 30, 2020
Our sincere sympathy to all of the Dunkin family. May many good memories be a blessing.
Joy Miller-Fite - Dec 29, 2020
To The Dunkin Family, my deepest sympathy. Joy
Jay C. Prather - Dec 27, 2020
So sorry to hear of Richard's passing. My thoughts and prayers are with the family during this difficult time.
Deanna Knauff - Dec 27, 2020
I was so sorry to hear of Richard's passing. Sincere sympathies to all of his family.
Carol & Tim Daniel - Dec 27, 2020
We extend our deep sympathy to all your family. Praying that God gives each of you strength and comfort.
Sarilee and Don Williams - Dec 27, 2020
So sorry to hear of Richard's passing. He was such a nice man...always very friendly. Will keep the family in our thoughts and prayers.