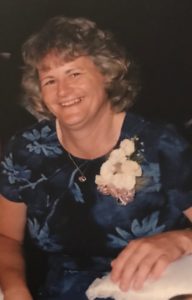 Mary Lee Roush
January 14, 1957 - March 20, 2020
Mary Lee Roush age 63, of Sprigg Township in Adams County, Ohio, died Friday, March 20, 2020 at Home. She was born January 14, 1957 in Dayton. She was preceded in death by her father, Bob O'Banion; sister, Deb Smiley; and one son, Michael Lee Roush.

Mary is survived by husband, Robert Lee Roush; one daughter, Anna Mary Thomas (James) of Beavercreek; one son, Adam Roush (Alexa) of Lake Waynoka; mother, Sandy O'Banion of Sprigg Township; one sister, Lou Ann Daniels of Winchester; four nieces including Nancy Cluxton (Andy) of Peebles, four nephews, five grandchildren: Samantha Thomas, Marah Roush, Allie Rae Roush, Jeanette Thomas and Mason Roush and three step grandchildren: Emily Thompson, Maddy Howerton, and Luke Thompson.

Mary was a lifelong cattle farmer. She was a graduate of North Adams High School Class of 1975. She also graduated from Southern State Community College with an associate degree in elementary education.

In lieu of flowers memorial donations can be made to the Go Fund Me account for Mary Lee Roush. https://www.gofundme.com/f/outstanding-medical-expenses-for-mary-lee-roush

The private visitation is Monday, March 23, 2020, for family only at Lafferty Funeral Home in West Union.

The funeral and interment are Tuesday, March 24, 2020 at 2 pm at Kirker Cemetery in Liberty Township on State Route 136.

Pastor Clarence Abbott will officiate.

Lafferty Funeral Home Incorporated of West Union is serving the family.
Condolences
Phil & Cathy Dryden - Mar 25, 2020
We send our deepest sympathy to your family. Our prayers are with you.
Kenny & Judith McCann - Mar 24, 2020
So sorry for your loss, thoughts and prayers for you and the family.
Linda purdin and David - Mar 23, 2020
So sorry for your loss. We pray that you and your family have the Faith to help each other get thought this time of loss. Mary Lee was a wonderful person and a great friend. I know she is in Heaven with her loved ones and out of pain. May God Bless you all.
Carletta Harbut - Mar 23, 2020
I'm so sorry for your loss Anna Mary. I'm wishing you and your family comfort and peace during this difficult time.
Joe Braden - Mar 23, 2020
I am saddened to hear of your loss, Anna Mary. I am praying for peace for you and your family.
Leanna Pollard - Mar 22, 2020
So sorry for your loss, my deepest sympathy to all the family and friends and prayers to all.
Carol & Tim Daniel, Sr - Mar 22, 2020
We are so very sorry for your loss. Praying God will give you strength and comfort.
Eric Gray - Mar 22, 2020
Sorry for your loss.
Tom Williams - Mar 22, 2020
Dear Anna Mary Our thoughts and prayers are with you at this difficult time. Over the past few years our professional relationship has turned into a true friendship. I know how close you were to your mother but you are strong and will become stronger as time passes.
Marcus Patterson - Mar 22, 2020
I sadly never met your mother, wife, and friend. But knowing Anna Mary, I was able to share a part of her. From all the beautiful things she shared with me about her, she is my kind of person (FIGHTER)! My heart aches and I shed tears along with your family. As much as your family loves her, God loves her more. When the absence and tears come, reflect on the ways she made you laugh and smile. I pray that God holds and comforts each of you. Anna Mary (TWIN), I'm hugging you 🥰🙏🏼🙏🏼🙏🏼