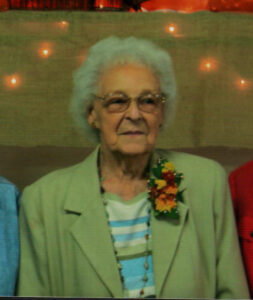 M. Virginia Satterfield
September 14, 1923 - July 26, 2020


Virginia Satterfield, age 96, of West Union, Ohio, died Sunday July 26, 2020 at The Adams County Manor. She was born September 14, 1923 in Wayne Township in Adams County. She was preceded in death by parents, William and Grace Lee (Wasson) Lloyd; husband William "Bill" Satterfield and Sister Phyllis Young.


Margaret is survived by seven nieces: Marilyn Francis (Ed) of West Union, Connie Phelps (Tim) of West Union, Debbie Newman (Larry) of West Union, Kathy McClanahan (Mike) of West Union, Sharon Arledge of Ft. Myers, Florida, Becky Stephens of Urbana, and Lesa Dixon (Dave) of Piketon; several great nieces and nephews, great-great nieces and nephews as well as many cousins and friends.
She was a lifetime resident of Adams County and an active member in Satterfield's Chapel Church in West Union.  She was employed by Tiffin Elementary school for over 20 years.
In lieu of flowers, memorial donations can be made to:
Satterfield's Chapel Church, P.O. Box 374, West Union, Ohio  45693,
Hospice of Hope, Inc., 215 Hughes Boulevard. Mt. Orab, Ohio  45154
The
private
visitation is Thursday, July 30, 2020 at Lafferty Funeral Home in West Union.
The
public
graveside funeral is 1 pm Thursday, July 30, 2020 at West Union Cemetery 9522 State Route 125, West Union, Ohio 45693. Pastor Clarence Abbott  and Pastor Danny Welch will officiate.
Lafferty Funeral Home Incorporated of West Union is serving the family.
Condolences
Phillip and Vicki Rhonemus - Aug 2, 2020
Dear Extended Satterfield Families, Continuing to keep each of you in our thoughts and prayer at this time. We will miss Virginia's conversation and reminiscing! Sincerely,
Kay - Jul 30, 2020
Thoughts and prayers are with you during your loss. It is so hard to lose a loved one. May it give you comfort knowing she is in the loving arms of our Heavenly Father.
Tom and Janie Kirker - Jul 28, 2020
Such a sweet sweet lady. I'm so sorry to hear of her passing. Prayers to her family that she loved so much. 🙏❤️
Cynthia Parker - Jul 28, 2020
She was such a sweet lady. So sorry for your family's loss, prayers.
Cinda Todd - Jul 28, 2020
Sorry for your loss.
David and Nancy Hook - Jul 28, 2020
A very special lady to Nancy and I. Hearfelt sympathies.
John T and Elaine Lafferty - Jul 28, 2020
Virginia was a very special lady. We thought so much of her, and send our sympathy to all of her family. Elaine & John T
Tina Cacaro - Jul 28, 2020
Such a beautiful soul alway a pleasure. Prays to her her family.
Dick & Joyce Huntley - Jul 27, 2020
Virginia & Bill were both such great people. Attended Satterfield Chapel with them for years! Sorry for the family's loss.
Don and Sarilee Williams - Jul 27, 2020
So sorry to hear of Virginia's passing. She was always so sweet and had a beautiful smile. Prayers for the family. May memories bring you comfort in the days ahead.