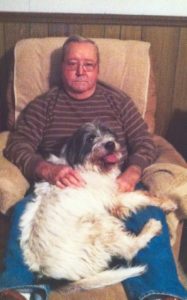 Larry Graham
October 3, 1940 - February 6, 2018
Larry Graham, 77, of Peebles, Ohio passed away on Tuesday, February 6, 2018 at Christ Hospital in Cincinnati, Ohio. He was born October 3, 1940 in Meigs Township in Adams County. He was preceded in death by his parents, Herbert and Emma (Hall) Graham, and son, Mick Graham.

Larry is survived by his wife, Dena (Crothers) Graham of Peebles; daughter, Tami Graham of Peebles; and many nieces and nephews.

Larry retired after 31 years as a crane operator for the Ohio Department of Transportation. After his retirement, he operated his own trucking business for 24 years. Larry was a U.S. Air Force Veteran.  He was a member of the Free and Accepted Masons Highland Lodge #38 in Hillsboro.

Memorial donations may be made to the Humane Society of Adams County, Inc., P.O. Box 245, West Union, OH 45693.

At his request, Larry will be cremated.  The family will have a memorial service at a later date.