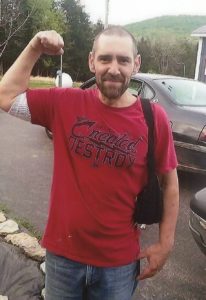 Issac James "Hog" Sumpter
August 28, 1976 - July 29, 2019
Issac James "Hog" Sumpter, 42, of Hillsboro, Ohio passed away on July 29, 2019 at Christ Hospital in Cincinnati, Ohio. He was preceded in death by his brother, Bruce Sumpter.

Issac is survived by his fiancé, Emmie Hayslip; mother, Cynthia "CJ" Jacobson; children: Levi Unger, Isiah Sumpter and Tylere Sumpter; stepdaughters, Gracie Bennett and Breanna (Gabe) Daley; mother-in-law, Anna "Momma H" Hayslip; brother, Dewey (Emmily) Sumpter; sisters, Donniea Sumpter and Genia Sumpter; his father figure and hero, George "Dad" Abbott; long time best friend, John Passmore; grandchildren, Xavier and Addison, and many nieces and nephews.

The Graveside Service is at 4pm on Monday, August 12, 2019 at Moores Chapel Cemetery in Blue Creek, Ohio.
Condolences
Rachel - Aug 11, 2019
I'm sorry for your loss he was a wonderful person. He will be sadley missed.
Sheila Unger Horsley - Aug 11, 2019
Sorry for your loss CJ. Heard on radio today.
Shannon Smith - Aug 10, 2019
My thoughts and prayers go out for this family! To lose two in such close proximity is a tragedy. RIP Isaac and Bruce. Isaac was a good soul, fun to be around and liked to make others smile or be happy. I'll remember him as a simple man. He loved his family and friends and that's all it took to make him happy. All kids that met him adored him, including my son who had gotten to know him well , through his best friend Gabe and his girlfriend Bree who was Isaac's step daughter pretty much. Those kids are having a hard time. Prayers for all, and his woman Emmy who stood solid by his side, through it all. His mother, sisters and brother who are left behind. Most importantly, his kids, Tyler and Levi and everyone else. I'm sorry for your loss..😪
Angela Walston - Aug 10, 2019
Our thoughts and prayers are with all of you.