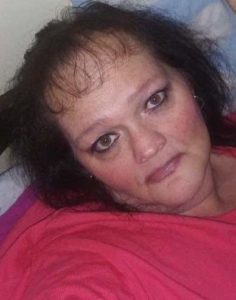 Francis Jean (Johnson) Koenig
May 26, 1971 - November 14, 2019
Francis Jean (Johnson) Koenig, 48, of Peebles, Ohio died Thursday, November 14, 2019 at Christ Hospital in Cincinnati, Ohio. She was born May 26, 1971 in West Union, Ohio to Judy (Parker) Johnson and the late John L. Johnson. She was also preceded in death by her maternal grandparents: Wilma (Burchett) Parker and Everett (Tuck) Parker and paternal grandparents: George C. Johnson and Francis (Lambert) Johnson.

Francis is survived by her companion, Pete Tolle of Peebles, Ohio; two sons:  Shane Koenig and Cody Tolle, both of Peebles; mother, Judy (Parker) Johnson of Peebles; one grandson, Drako Xavier Koenig of Peebles; two sisters:  Melissa (Lonnie) Daley of Manchester, Ohio and Joyce Johnson of Peebles, Ohio; one brother, John Dale Johnson of Peebles; many nieces and nephews, cousins, aunts and uncles.

Francis was employeed at the former McCoy's restaurant and Gordley's I.G.A. deli, both in Peebles, and was a home health aide.  She was a Peebles High School graduate; a member of the Peebles Lions Club; and was a Peebles Old Timer's Day Committee member.

Memorial donations may be made to Lafferty Funeral Home, Inc., P.O. Box 5, West Union, Ohio 45693.

The visitation is12 until 2 pm Monday, November 25, 2019, at Lafferty Funeral Home in West Union, Ohio.  The funeral is at 2 pm Monday.  Pastor Phil Fulton will officiate.

Interment will be at Moore's Chapel Cemetery in Blue Creek, Ohio.

Lafferty Funeral Home in West Union is serving the family.
Condolences
Sharon Parker - Nov 25, 2019
My condolence goes out to the family so sorry
Tonya Unger - Nov 23, 2019
Jeanie is going to be missed dearly she was a very good mother, grandmother,sister, aunt, friend you couldn't ask for a better person than her. R.I.P. sis until we meet again LOVE YA ALWAYS AND MISS YA!!!! ❤😥😥😥😥❤😭😭😭
Mary Forman - Nov 23, 2019
Jeannie you was like a little sister to me. We spent a lot of good times together Just sitting around listening to music. Doing each other's hair, dressing up doing your makeup I will cherish all the memories and keep them close to my heart. I just can't believe your gone. But you definitely will never be forgotten. Until we all meet again love and miss you bunches you aunt Mary