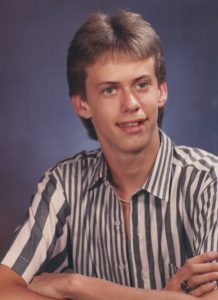 Eugene Shannon Hughes
July 9, 1970 - July 8, 2018
Eugene Shannon Hughes, 48, formerly of West Union, Ohio passed away Sunday, July 8, 2018 at his home in Parks Hills, Kentucky. He was born July 9, 1970 at the Adams County Hospital in West Union.

Eugene leaves behind his parents, Eugene T. and Barbara A. Hughes of West Union; two brothers: Monty (Heather) Boyd and their four children of Peebles, Ohio and Travis (Shea) Fitzpatrick and their four children and three grandchildren of New Market, Tennessee; six sisters: Shelly Boyd and her son of Cold Springs, Kentucky, Trina (Sandy) Sparks and their three children and three grandchildren of Seaman, Ohio, Teri (Chuck) Crawford and their five children and eight grandchildren of Seaman, Tammy Pinto (Chris Foster) and her three children and three grandchildren of Seaman, Teresa (Mike) Reid and their two children and two grandchildren of Williamsburg, Ohio, Theilia (Rusty) Payne and their three children and nine grandchildren of Dandridge, Tennessee; friend, Gary Bauer of Parks Hill, and his special buddy Toby the dog which he loved dearly. Eugene has several aunts and uncles with whom he was close. Also he had many friends, including Matt and Michelle Condon, Charlotte Seaman, Sandy Davis, and Rob Robison. Eugene loved to get together with friends and family and talk about the past and old times.

Eugene graduated from West Union High School in 1988 and went on to Morehead State University in Kentucky. He later transferred to the University of Cincinnati and Northern Kentucky University where he majored in business. Eugene worked at upscale restaurants in Cincinnati, Ohio. Eugene was a member of The Church of Jesus Christ of Latter- Day Saints.

Memorial donations may be made to Lafferty Funeral Home, Inc., 205 South Cherry Street, West Union, Ohio 45693.

Visitation will be from 11 am to 2 pm on Saturday July 21, 2018 at Lafferty Funeral Home in West Union. The funeral service will follow at 2 pm with Bishop Matthew Armstrong officiating. The Inurnment of the cremains will be at the convenience of the family.
Condolences
Anonymous - Aug 23, 2018
R.I.P
Robert Devore - Jul 24, 2018
My deepest sympathy to all who new him...
Kim - Jul 21, 2018
Gary, sorry for your loss! Gene will be missed by all who knew him!!
Garry & Alvin Messer - Jul 18, 2018
Bub was a great guy.We had great fun running around the neighborhood where many of the kids would gather. I'll never forget Bubby. My prayers and thoughts are with you Gene & Barb. God be with you and your family.
Alice Thatcher - Jul 18, 2018
So sorry for the loss of Bub. He was such a joy growing up! He will be missed. Prayers for the Hughes family.
Angie Rainwater Osburn - Jul 17, 2018
So sad to hear of Bubs passing, he has been a friend for as long as I can remember. My heart and prayers are with the family and special friends who knew and loved him.
Jonda Caraway Via - Jul 17, 2018
RIP Eugene. You will be greatly missed and always remembered. Prayers and condolences to the family.
Rachel Sterling(Cacaro) - Jul 17, 2018
Lots of prayers for you and your family Barb and Gene. Eugene always had a special way of making me laugh. I have not seen him since high school and was so sad to hear that he passed away. He was loved a lot by many friends.
charlotte seaman - Jul 17, 2018
My thoughts and prayers are with you Barb and Gene and the rest of the family. I will miss u Eugene, truly my forever friend!