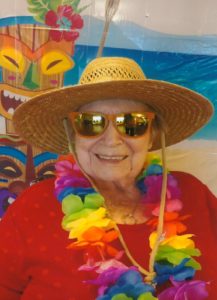 Elizabeth "Libby" Chalker
February 15, 1927 - October 24, 2018
Elizabeth "Libby" Chalker, 91, of  Fawcett in Adams County, Ohio, formerly of Lago Colony, Aruba, passed away Wednesday October 24, 2018 at the Hospice of Hope Ohio Valley Inpatient Center in Seaman, Ohio. She was born February 15, 1927 in Kearney, Nebraska. She was preceded in death by her parents, Donald and Emily (Saunders) Haase; husband, William R. Chalker; son, W.R. "Pepper" Chalker, Jr. and great grandson, Matthew Kern.

Libby is survived by her children: James (Peggy) Chalker of Fawcett, Jennifer (John) Kern of Prescott Valley, Arizona, and Emily (Michael) Lane of Sarasota, Florida; sister, Mary Flippen of Charlottesville, Virginia; brother, James Haase of Banning, California; six grandchildren, six great grandchildren and one great, great grandchild.

Libby retired from the First National Bank of South Carolina after 18 years of service. She worked as a clerk for the U.S. State Department – Foreign Service in San Nicolaas, Aruba and also worked as a party organizer for the U.S.O. She was a member of the Grace Fellowship Church in Peebles, Ohio.

Libby was proud of her heritage.  Her great, great grandmother was the sister of Kit Carson. One grandfather rode for the Pony Express, and her geat grandfather was the woodcarver to the King of Sweden.

A Visitation will be held at the Grace Fellowship Church in Peebles on Friday, November 23, 2018 from 4 until 5:30 pm with a Memorial Service following until 6 pm.