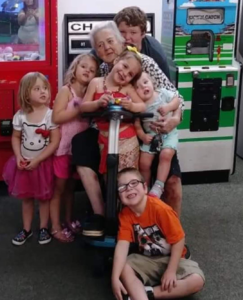 Dorothy Gwendolyn Marshall
January 26, 1945 - November 6, 2019
Dorothy Gwendolyn Marshall, age 74, of the Panhandle near West Union, Ohio died on Wednesday, November 6, 2019 at her home. She was born on January 26, 1945 to the late Elton Grady Long and Lana LaRea (Cress) Long. Dorothy was raised in Roscoe, Texas.

Besides her parents, she is preceded in death by her five grandsons; Michael Anthony Heise, Nicholas Michael Heise, William Heise, Robert Curtis Marshall Jr. and Karl Richard Marshall.

Dorothy is survived by her husband of 57 years, Robert "Bob" Marshall;  two daughters:  Donna (Michael) Heise and Randi Marshall;  two sons:  Robert (Mary) Marshall and Richard Marshall;  seven grandchildren:  Robin (Nathan) Pearce, Daniel (Ashley) Marshall, Jacob (Katie) Marshall, Nicole (Jesse) Helterbridle, Dustan Coleman, Tabitha and Lane Marshall; eleven great-grandchildren:  Stacy, Ryan, Hailey, and Macey Pearce; Symaura and Saria Marshall; Austin, Anna and Addyson Marshall; Sam Coleman and Maverick Helterbirdle; along with several "adopted" children and grandchildren.

It was her belief that blood does not make you family, love does.

A private memorial service will be Saturday, November 9, 2019 at her home.

Lafferty Funeral Home in West Union, Ohio is serving the family.
Condolences
Tamara Pfaff-Bartelt - Nov 9, 2019
It's with a heavy heart that we say good bye to a woman that touched so many people in her life. Dorothy was a mother to all children that came into path. She treated all of us kids as if we were her own. It didn't matter where you came from, the color of your skin, you were one of hers. I'll never forget you, and will eternally be greatful for having you in my life. May you Rest In Peace. I know you'll still be watching and guiding over all those you love.
Karen Heise - Nov 9, 2019
With our deepest sympathies and condolences to all of you on the passing of your Mom, wife, grandmother, great grandmother. Our hearts and prayers for all of you at this very sad moment. Your Mom was a wonderful woman and we were blessed to have known her in our lives. We will remember all the good times and keep her in our hearts forever. She is now in Heaven with her other grandchildren. May she Rest In Peace amongst them and the angels. Love and hugs to all of you, Karen, Robert, and Dee