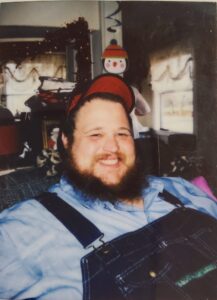 Charles Lee Mers
November 6, 1990 - March 17, 2021
Charles Lee Mers, age 30, of Manchester, Ohio, died Wednesday, March 17, 2021 at Adena Medical Center in Chillicothe.  He was born November 6, 1990 in Murfreesboro, Tennessee. He is preceded in death by grandparents: Lilly Lee Bayless, Mary Frances Calkins and Charles Raymond Calkins, Sr.

Charles is survived by loving wife, Gabriella Mers and their three daughters: Amber Lee, Loretta Nicole and Venesa Lorane Mers all of Manchester. He is also survived by parents Frances Rosita Hall of Manchester and Steve Mers of West Union; three brothers: Frank "Buddy" (Jennifer) Hall of Murfreesboro, Tennessee, Joseph (Tiffany) Allen Mers of Maysville, Kentucky and Billy Ray (Kathleen) Mers of Manchester; one sister, Stevie Brooke (Tyler) Wisdom of Union City, Tennessee; several nieces; nephews; cousins and friends.

Charles was a wonderful husband, devoted father, loving son, terrific brother, caring uncle and amazing friend. He worked as a truck driver for many years.  He enjoyed hunting and making people laugh.  He made an impression on every person he met.

The public visitation is 11 – 2 PM Monday, March 22, 2021 at Lafferty Funeral home, 205 South Cherry Street, West Union, Ohio 45693.

The public funeral is 2 PM Monday, March 22, 2021 at Lafferty Funeral home, 205 South Cherry Street, West Union, Ohio 45693.

The public interment will be at Manchester Cemetery, 813 East 8th Street, Manchester, Ohio 45144.

Due to Covid-19 Regulations, please wear a mask.

Lafferty Funeral Home Incorporated is serving the family.


Condolences
anonymous - Mar 23, 2021
Charles was a good man and father, I send all of my prayers and condolences to Gabi and her three daughters. Thank you.
Heather - Mar 19, 2021
I'm so sorry to all of you guys Charles was always a great guy always had a smile on his face and never had a bad thing to say to anyone he will truly be missed I'm sending big hugs and many prayers to Gabi the girls and the rest of the family
Laura Gonzalez - Mar 19, 2021
I'm very sorry for the loss of you'r son and a great father. I send to the family my deepest condolences to the Wife and Children. May he rest in peace and hope you can get threw this difficult time at this moment. Thinking of you and you'r family at this time. May god be with you. I'm related to Vanessa Vela. Thank you.