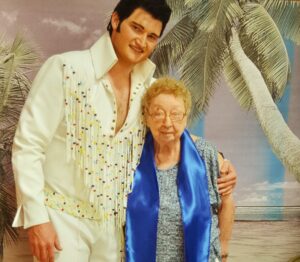 Brenda Joyce Reed
July 20, 1942 - January 11, 2021
Brenda Joyce Reed, age 78, of West Union, Ohio, passed away peacefully, Monday January 11, 2021 at the Adams County Manor.  Brenda was born July 20, 1942 to the late Charles and Marjorie Chaboude.  She is also preceded in death by one brother, Alva Chaboude; one sister, Charlotte (Chaboude) Johnson and husband, Charles Henry "Sonny" Reed.

Brenda is survived by one daughter Mary Ellen (Reed) DeMatteo, one son, Charles William "Chuck" (Julie) Reed, seven grandchildren: Bradley Reed, Nikki Reed, Michael DeMatteo, Amanda (Michael) Banks, Brielle (Shauna) Manovich, Aria (Trevor) Cull and Taylor Reed and four great grandchildren; Peyton, Jeffrey, Logan and Henry; cousins: Stephen and Shirley Pelton, Jean and Dwayne Curless, Dale Pelton, Hugh Pelton, several more cousins and a host of friends.

Brenda and Sonny spent many years together residing in Riverside, New Jersey.  She returned to West Union many years ago. She loved her family dearly and enjoyed spending time with her cousins.  She loved bingo, dancing or as she called it "bookin".  Most of all, she loved Elvis.

Our family was blessed to have enjoyed her beautiful soul for 78 years.  She was loved dearly and will be deeply missed.  We love you.

The private visitation was Thursday, January 14, 2021 at   Lafferty Funeral Home, 205 South Cherry Street, West Union, Ohio 45693.

The private memorial service was Thursday, January 14, 2021 at   Lafferty Funeral Home. Brenda was cremated following the services.

Lafferty Funeral Home Incorporated is serving the family.
Condolences
Tyler Christopher - Jan 16, 2021
I'm so sorry for your lost! She was a sweet lady and I thoroughly enjoyed meeting her!
Teresa Carr - Jan 16, 2021
My heart breaks for the family! I will always remember Brenda as a loveable firecracker! She will be sorely missed!
Michael DeMatteo - Jan 15, 2021
Daughter, Sister, Mother, Wife, Grandmother, Great-grandmother, and Friend. Rest in eternal peace, Grandma, and thank you for everything. I know that you are dancing with Grandpa and Elvis is singing to you both. - Love, Your Michael, your "little punkin"