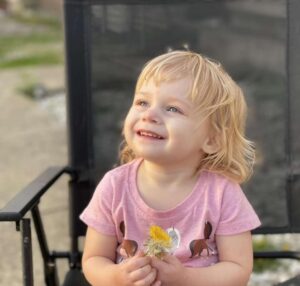 Aurora Rose "Rory" Hawkins
April 22, 2020 - May 29, 2022
Aurora Rose "Rory" Hawkins, 2, of Peebles, Ohio passed away on May 29, 2022 at her residence. She was born April 22, 2020 in Portsmouth. She is preceded one uncle, David McCann.

Rory is survived by parents: Mikael Hawkins and Star Robinson of Peebles; one sister, Emilee Violet Gray Hawkins; grandparents: Dawn and John Robinson and Rebecca and Bob Hawkins; great grandparents: Violet and David Robinson; aunts and uncles: JT Robinson, Kristine and John Thompson, Brandal Emrick, Dennell and Dylan Leeth, Sarah Hawkins, Alisha and Todd Pierce, Jeremy and Holly Hawkins, Kacey and Robert Lacey, Cortnee and Samuel Workman, Anna Hawkins, Brice Hawkins, Matthew Hawkins, Chevy Hawkins, Blazia Hawkins, Wanda Robinson, Angela Robinson and Gloria Robinson; several cousins and other family members.

Rory was full of sass and life.  She loved animals especially horses and goats.  She enjoyed spending time with her family on their farms. She was a gift from God, to test our patience. Even though our hearts are shattered, we are blessed to have held Rory in our arms for 2 years, now we hold her in our hearts forever. She will never be forgotten.

The public visitation is 1-3 PM Friday, June 3, 2022 at Locust Grove Wesleyan Tabernacle, State Route 41, Peebles, Ohio 45660.

The public funeral will be 3 PM Friday, June 3, 2022 at the Locust Grove Wesleyan Tabernacle. Pastors Joey Sandlin and Richard Williams will officiate.

The public interment is at May Hill Cemetery, 9 May Hill Road, Peebles, Ohio 45660.

In Lieu of flowers, memorial donations can be made to:

Lafferty Funeral Home Incorporated
P.O. Box 5, West Union, Ohio 45693

or

First State Bank of Adams County - any branch

409 East Main Street, West Union, Ohio 45693
Lafferty Funeral Home Incorporated serves the family.
Condolences
Kelly Purdin- Mason - Jul 10, 2022
Becky, Bob & Family, I was thinking of you all when I saw the name Hawkins, I immediately glanced through and saw it was one of your grandchildren, children, nieces. My heart breaks for you. It so hard especially when it's a child. There are no words. Just know you're in my thoughts, my heart and my prayers always. God bless you all in this time. Sincerest Prayers, Kelly & Family
Steve and Hollie Butts - Jun 4, 2022
Our hearts are heavy for your families loss. What a precious gift she was to you all. Prayers for comfort.
steve and leesa hively - Jun 3, 2022
we are so saddened by your loss of one so young, she seemed like such a joy to you all. we will miss seeing her in the pool and running around the yard
Randy and Vickie Crabtree - Jun 3, 2022
Our hearts are broken for you and all the family, loosing your precious baby girl. We are praying for you all and sending our love.
Theilia Payne - Jun 2, 2022
Mikael and Star, our hearts go out to you for the loss of your precious and beautiful girl. You are in our prayers. Love to you all, Theilia and family
Ron and Shirley Hawkins - Jun 2, 2022
Our condolences to the members of Aurora Rose's family. In the picture, she sparkles with happiness.
Alice Rigdon - Jun 1, 2022
My Heart Felt Condolences to you and your Family my Grandson Nick Rigdon went to school with star and my Daughter Jessica Fletcher is her friend that's Nick's mom my GOD Bless you and hold you all tight just as he did us when Nick passed away at 15 years old so very so for your loss but just remember you will see your little girl again in Heaven
Mark and Sheila Brewer - Jun 1, 2022
So sorry for your loss. Prayers and thoughts of strength be with you and your family.
Teresa McCann - Jun 1, 2022
May the Lord be with your family. As Tasha McCanns 1st stepmom. I'm praying for God's love to surround each of you.
Chris & John Cassidy - May 31, 2022
So very sorry for your loss. Prayers for the family.