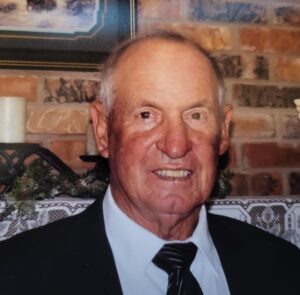 Arthur Ray Hughes
November 11, 1939 - October 25, 2021
Arthur Ray Hughes, age 81, of West Union, Ohio, passed away Sunday, October 24, 2021. Ray was born in West Union, Ohio on November 11th, 1939. He was the son of the late William Arthur Hughes and Cleo Augusta Hughes (Johnson).

Besides his parents he was preceded in death by his loving wife of 41 years, Garnett Hughes (Boaz); one grandson, Noah Bayless; three sisters, Margaret King, Rita Happeney, Bonnie Page; and one brother, Larry Hughes.

Ray was born and raised and lived his entire life in Adams and Brown counties. He was a proud graduate of West Union High School. Following his high school graduation, he served in the U.S. Army for three years. After serving in the Army, he devoted the rest of his working career through retirement to General Electric Peebles Test Facility.  Ray also spent his entire life dedicated to working and caring for his farms.

Ray is survived by two sons, Jeff (Shonda) Hughes of Winchester, Ohio; Jim (Gwen) Hughes of West Union, Ohio; and one daughter, Patricia (Mike) Bayless of West Union, Ohio; six grandchildren, Tiffany Stark, Samantha (Doug) Bauman, Joseph (Leslie) Unger, Kyle (Melissa) Hughes, Ashton (Addison) Hughes, and Nathan Bayless; seven great-grandchildren, Nevaeh, Ava Grace, Parker, Lucas, Sophia, Ava Lynn, and Hayden.  Ray also leaves behind one sister, Barb Enge, and one brother, Carl Hughes. He also had a very special friend of twelve years that he leaves behind, Donna McKean.

Graveside services and burial will be held at Decatur Cemetery at 1:00 pm on October, 28, 2021. The cemetery is located at 6550 Decatur-Eckmansville Rd., Russellville, OH, 45168. The service will be officiated by Tom Claibourne. A celebration of life will follow at 2:00 pm at the Willow Event Center located at 7662 Eckmansville Rd, Winchester, Ohio, 45697.

Lafferty Funeral Home is serving the family.
Condolences
Phil and Vicki Rhonemus - Nov 12, 2021
Dear Hughes Families, Keeping all of you in our thoughts and prayers at this time. Sincerely,
Ronnie & Jeanne (King) Grooms - Oct 30, 2021
So sorry for your loss. Ray was a great guy. Will miss seeing him at Hilltop Golf Course. Sending prayers for all.
Carol & Tim Daniel - Oct 29, 2021
So very sorry for your loss to each of the family members. Prayers for comfort and strength.
Tom and Janie Kirker - Oct 29, 2021
So sad to hear about Rays passing. Such a great guy 🙏
Rick and Belinda Sininger - Oct 28, 2021
The Lord is close to the brokenhearted (Psalms 34:18). Praying the family can find comfort with this promise. He will be sorely missed.
Susan May - Oct 27, 2021
Thinking of you all during this time. So sorry to hear this. 😢
Sherrie Wolford - Oct 27, 2021
So sorry for loss. He was a great guy and like family to us all.
Joe and Lorna Horvath - Oct 27, 2021
We are sadly going to miss Ray and the trips when he came to Pa. with you, Donna. We had some good times. Great visits at your farm. God bless you at this very hard time. Love and unending prayers.
Sandra and Kenny Grooms - Oct 27, 2021
Our deepest sympathy for the family. Ray was a good man.
Pam Hughes Wiginton - Oct 27, 2021
I'm so sorry Donna for your loss And for the kids I'm so sorry words are not enough at this time I know but I loved uncle Ray and I love all the memories of our Hughes reunion and I love all my cousins my prayers and thoughts are with y'all
Jim & Karlene Leonard - Oct 27, 2021
Sending our sympathy for the loss of your Dad and Grandfather.
Danny Russell - Oct 27, 2021
I knew Ray for 55 years. He helped get me on at GE and I am eternally grateful for that. He was a very nice person. I have played alot of golf with him over the years and the last time I saw him was at Hilltop Golf Course last year. I will be unable to attend his graveside services because of an appointment I cannot change and I regret that. He was a really good guy! My condolences to his family.
Sheila and Frank Roush - Oct 26, 2021
Sending our love and prayers for the family.
Kathy an Mike - Oct 26, 2021
So sorry for your loss. Had many a calf roundup an a lot of laughs. Thoughts an prayers with you all
Stephen Fields - Oct 26, 2021
Some fond memories of my Uncle Ray. Thanksgiving Dinner when he made homemade ice cream. Letting me play on the first computer I ever saw. Playing him at chess, I never did won. To Jeff, Jim and Patricia; my most heartfelt prayers go out to you. With Love, your cousin Steve.
Chris & John Cassidy - Oct 26, 2021
Donna I am so sorry to hear about Ray. Prayers for the family.