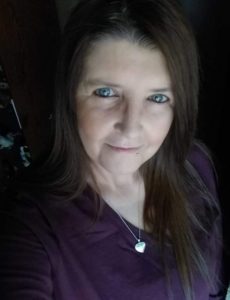 Angela (McKee) Christman
September 25, 1972 - July 25, 2019
Angela (McKee) Christman, 46, of  West Union, Ohio passed away on Thursday, July 25, 2019 at her home. She born September 25, 1972 in Wilmington, Ohio to Marietta (Toles) McKee and the late, Albert McKee.

Angela is survived by her mother, Marietta (Toles) Alva of West Chester, Ohio; husband, Shawn Christman of Hillsboro, Ohio; children: Zachary McKee and Elizabeth Young, both of West Union, Robert Cook (Kathleen Chandler) of Dayton, Ohio and Shane (Aislinn) Young of Peebles, Ohio; sisters: Vanessa McKee (Adam Gehler) of West Chester, Rebecca (Pheffer) Stieh of Lawson, Missouri and Melissa Lewis of Fairfield, Ohio; nine grandchildren: Brilee Young, Kyle Cook, Landon Cook, Braelynn Cook, Colton Young, Clayton Young, Tessa McKee, Kelsey McKee and Nevaeh McKee; maternal grandmother, Ethel Toles of Blue Ash, Ohio; three aunts; five uncles; mother-in-law, Kathy Snell of Hillsboro, and many nieces, nephews, cousins and friends.

Angela was a homemaker.

The visitation is from 12 until 3 pm on Wednesday July 31, 2019 at Lafferty Funeral Home in West Union. Following the visitation, Angela will be cremated.
Condolences
Vanessa - Feb 23, 2020
I love and miss you so much sis ❤😘
Vanessa mckee - Jan 21, 2020
I miss you more than ever my beautiful angel life isn't far without you here with us sis.. it's been so emotional still today with it being almost 6 months u were taken from us. We love and miss you always and forever. Rest easy my beautiful sister😘❤
Robert cook - Dec 6, 2019
Momma I miss you like crazy not a day gos by I dont ..I love you so so much your heart was to big for this world and there was other plans for you in the after life ..we all miss you and love you forever always momma your baby boy ..❤❤❤❤❤
vanessa mckee - Jul 30, 2019
my beautiful sister im going to miss you so very much not a day will go on that you wont be on my mind and in my heart your my angel in heaven watch over me sis i need you more than ever this isnt a good bye its a until i see you again. you are my world my everything for eternity❤