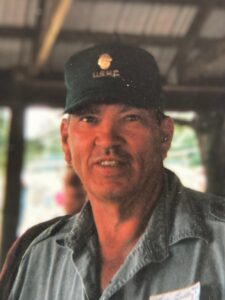 William R. Bentley
May 23, 1936 - January 3, 2021
William Ray Bentley, age 84, of Carlisle, Kentucky died Sunday, January 3, 2021 at The Ohio Veteran's Home in Georgetown, where he has resided for the last 2 years.  Bill was born May 23, 1936 in Brush Creek Township in Adams County.  He was preceded by parents, William R. Bentley and Lula (Taylor) and Guy B. Baker; one son, Wesley Bentley; two grandsons: Brian L Bentley and Andrew Bentley; one brother, Jerry W. Baker; three sisters: Dorothy Ruth Wood, Darlene Thornberry, and Wilma Jean Sharp and one nephew, Perry Baker.

Bill is survived by one son, William P. ( Tammy) Bentley of Columbus; two daughters: Shonnie (Silvano) Espinoza of Columbus and Cynthia (Mitch) Deming of Greenfield; eight brothers: Orville Baker of Hillsboro, Danny Baker of Wilmington, Lester "Frog" Taylor of Lynx, Robert (Betty) Bentley of Manchester, Tony Ray Bentley of Lynx, Arnold Ray Bentley of Lynx, Randy Allen Bentley of Lynx, and Ray Lavonne Bentley of Lynx; three sisters: Rosie (Larry) Young of West Union, Charlene (Jerry) Caplinger of Hillsboro and Daphine (Terry) Trenner of Byesville; nine grandchildren: Jeff Ervin, Wayne Ervin, Gena Espinoza, Abigail Bentley, Jennifer Diericks, Sharlee Murray, Tamara (Marcus) Wise, John David McCafferty and Kimberly Murphy; several great-grandchildren, many great-great-grandchildren and several nephews and nieces.

He was very hard worker in every aspect of life.  After serving our country for 27 years, during the Korean Conflict, he retired from the United States Marine Corp and the United States Air Force.  After his military life he loved working on his farm in Carlisle, Kentucky and racing horses with his brother Orville.  He will be deeply missed by all that knew him.

The public visitation is 12 – 2 PM Friday, January 8, 2021 at Lafferty Funeral Home, 205 South Cherry Street, West Union, Ohio 45693.

The public funeral is 2 PM Friday, January 8, 2021 at Lafferty Funeral Home.  Rosie Young will officiate.

The public committal and military graveside services will be at East Liberty Cemetery, Tulip Road, Lynx, Ohio.

Due to Covid-19 Regulations, please wear a mask.
Condolences
Cynthia Bentley Deming - Jan 25, 2021
Thank you to everyone for your kindness in remembering our Father Bill Bentley We appreciate it and so would our dad Sincerely Shonnie and Cindy Bentley
Deanna Knauff - Jan 15, 2021
So sorry for you loss. I remember Billy from grade school.
Carol & Tim Daniel - Jan 13, 2021
Sending our deepest sympathy to all the family. So sorry for your loss. May God give you strength, comfort and peace during this time and time to come.
Phillip and Vicki C. Rhonemus - Jan 8, 2021
Dear Bentley Family, Keeping you in our thoughts and prayers at this time. Sincerely,
Kenny and Sandy Grooms - Jan 5, 2021
So sorry for your loss. Prayers for the family.
Cindy Deming - Jan 5, 2021
Daddy I'm really missing you already Im so happy for the times we spent together I just wanted more time with you and I knew that you were afraid to die because you told me and you told me why I only wanted to try and help you live a few more years I wish with all my heart that you could have I have always loved you and I think you know that Please say hello to Brian for me let him know that I love and miss him so much Say hello to Wesley and grandma Baker And hey to uncle Jerry and Andy I'm sure that they will all be so happy to see you I'm so happy that you are going to see your mother I can't even imagine how happy you both are going to be I love you daddy