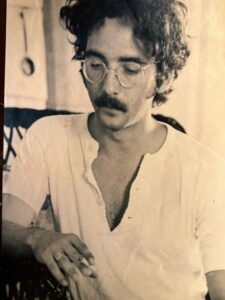 William C. Brown
September 18, 1950 - March 10, 2023
William C. Brown, 72, of West Union, passed away Friday, March 10, 2023 at his residence. He was born September 18,1950 in Galveston, Texas. He is preceded by parents: Chester and Hilda (Stewart) Brown.

Bill is survived by his loving wife, Judith (Lawler) Brown of West Union, one daughter, JoAnna Lauren (Stuard) Lax of Maysville, Kentucky; two sons: Carl Christian Brown of Catskill, New York and Nathan Whitt of Dunnellon, Florida; two grandchildren: Alilia and Sophia Whitt of Dunnellon, Florida; one brother, Stewart (Linda) Brown of Louisville, Kentucky and numerous family and friends.

Bill was an artist from a young age, having exhibits starting at 12 years old. He exhibited in Houston, Texas; New York, New York; Santa Fe, New Mexico and Kalamazoo, Michigan. He painted murals throughout Ohio and Kentucky. He worked as an art and special education teacher for the Adams County Ohio Valley School District for many years.

The public visitation is 11 AM – 2 PM Saturday, March 18, 2023 at West Union Presbyterian Church, 110 South Second Street, West Union, Ohio 45693.

The public funeral is 2 PM Saturday, March 18, 2023 at West Union Presbyterian Church. Reverend Dr. David Sugarbaker and Pastor Owen Applegate will officiate.

The public interment is at West Union Village Cemetery, 5096 Pumpkin Ridge Road, West Union, Ohio 45693.

Friends can sign online condolences at www.LaffertyFuneralHome.com

Lafferty Funeral Home Incorporated serves the family.


Condolences
Sonya & Tim Ayres - Jun 8, 2023
So sorry to hear about Mr Brown... He was a super great Teacher at Manchester High School...
Debbie Lawler Bane& Joe - Apr 11, 2023
So sorry to find out about Bill. You and your family in our thoughts and prayers. Please let everyone know we are thinking of you all. Let us know if we can can do anything. Your cousin and friend. Love, Debbie and Joe
Phil and Vicki Rhonemus - Mar 24, 2023
Dear Judy and All Brown Family, Keeping each of you in our thoughts and prayers. We will miss conversations with Bill; also his art projects and ideas for advancing the arts in Adams County. Sincerely,
Richard Lafferty, Greg Lafferty and Eric Lafferty - Mar 24, 2023
We are sending our condolences to Judy and her children. We were so sorry to hear of Bill's passing.
Patty Dillow - Mar 20, 2023
I'm truly sorry for your loss. Love and Prayer for the family.
Cass and Jamie Benedict - Mar 19, 2023
We send our condolences to all the family and dear Judy! May Bill rest in joy and peace!
Harold A. and Bonnie Collins - Mar 18, 2023
Our condolences to Judy and the family. Bill always left you with a smile on your face. He was a genuine nice and kind person who will be missed.
Anita E. Curtis - Mar 16, 2023
Symapthy to his family. Bill was a kind and thoughtful and a pure joy to teach with. He always looked fo the best in everyone and an inspiration to know,
Markus Chamblin - Mar 16, 2023
Mr: Brown was an inspirational art teacher who blessed us with his personality & insights. Sincere sympathy to Judith Ann, Nathan & the entire family on behalf of The Chamblin Family.
Mary Lou and Bill Whitt - Mar 16, 2023
Thoughts are with the Brown family during this time of grief. We will keep your family in our prayers.
Christopher Beam - Mar 16, 2023
Bill was a wonderful man. My deepest sympathies to, Judy, Lauren and the rest of the family.
Tom Cross - Mar 16, 2023
So long Bill, you'll be missed. So sorry to hear of this and I considered you a good friend. Prayers for the family.
Danielle Steward - Mar 16, 2023
I couldn't had asked for a better man to be my teacher, to always seeing me out and would stop me no matter how busy he was and give me so much advice. Truly kept me going for so many years and he said before I graduated I would never be alone in this world and I hadn't been thanks to him. Heaven gained so much it must be bursting in colors up there 💕 love you brown eye for an eye, a dollar to always try. Thank you for loving us "trouble kids" for who we were knowing we would do great things in this world. "Be who you are suppose to be the world can handle a little bit of trouble." -Mr. Brown 10th grade teaching lesson. My condolences to his family and friends, you'll never be alone in his honor from every person's life he has touched in such a positive way and it was truly so many ❤️
Nancy monroe - Mar 15, 2023
Mr.Brown was a wonderful teacher and friend. He never knew a stranger. I could sit and talk with him for hours. He always greeted me with a smile and hug. He will be greatly missed. Rest in peace my friend. Condolences to the family.
Christian Gault - Mar 15, 2023
« Ceux qu'on aime ne s'en vont pas, Ils marchent à nos côtés chaque jour, Invisibles, silencieux, mais toujours proches, Toujours aimés, toujours manqués et très chers » Having to say goodbye is not the hardest part when you lose someone you love, but rather to learn to live without them and always try to fill the void, the emptiness which is left in your heart when they go. I would have liked so much having been able to come and join you. Bill must be proud to have such a loving family and great friends. You are all In my thoughts and I am wholeheartedly with you today. My deepest friendship and love to all of you. 💕 Christian and Frederique
Vickie Fulton - Mar 15, 2023
Condolences to the family. I am grateful for the life's lessons you shared with my son (Carl's grade school classmate/friend) and of the fond memories he has of the weekend camping trip you and John Downs took all the boys on. Thank you for your kindness to my son.
Alyssa Moore - Mar 15, 2023
I'm so sorry for your loss. He was very talented and a great art teacher.
Robert McNamara - Mar 14, 2023
I am so sorry for your loss. Bill was a great soul. I am sure he is smiling,looking down at his friends and family. He was loved by all. I'll see you in the stars.
Kim stutz fields - Mar 14, 2023
He was an amazing art teacher . I Totally enjoyed his art class .. couldnt of ask for a better teacher .. Sending prayers for the family ..
Randy and Betty Tackett - Mar 13, 2023
We are sorry for your loss. We really enjoyed getting to know and work for them. Best teacher to have known. 🙏
John T and Elaine Lafferty - Mar 13, 2023
We send sincere sympathy to Judy and all of Bill's family. His talent enriched so many lives through his years here in Adams County, and he will never be forgotten. We are glad to have known him. John T and Elaine