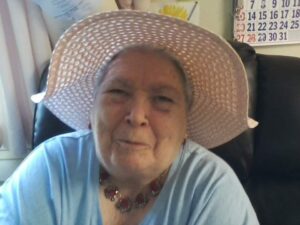 Wanda Wilburn
October 15, 1937 - August 29, 2021
Wanda (Severt) Wilburn, 83, of West Union, Ohio, died Sunday, August 29, 2021 at Good Samaritan Hospital in Cincinnati.   She was born October 15, 1937 in West Virginia.  She was preceded by husband, Milford Wilburn; parents, Arthur Glenn and Myrtle Effie (Smith) Severt; one daughter, Mary Grooms; two grandchildren: Dana Raye Grooms and Rachel Leann Reed; two sisters: Shirley Gardner and Rebecca Elaine Cox and three brothers: Stewart Severt, Clarence Severt and R. Edward Severt.

Wanda is survived by two sons: Adam Wilburn of Covington, Kentucky and Dwayne Wilburn of West Union; five daughters: Marsha Grooms of West Union, Rebecca Hodge of West Union, Wilma (Bobby) Miller of West Union, Joyce Grooms of New Vienna and Marie Anderson of Tuscan, Arizona; 18 grandchildren; many great grandchildren, several great-great grandchildren; two sisters: Jetty Acers of Princeton, West Virginia and Thelma Camarose of Lashme, West Virginia; two brothers: Arthur Severt, Jr. of Princeton, West Virginia and Richard Severt of Princeton, West Virginia; numerous nieces and nephews and countless friends.

Wanda was a member of East Liberty Church and Fairview Church for many years.  She loved to cook and spend time with her beloved family and friends.

Lafferty Funeral Home Incorporated, P.O. Box 5, West Union, Ohio 45693.

Ms. Wilburn will be cremated.

There will be a celebration of life at 2 pm, Saturday, September 11, 2021 at East Liberty Fellowship Hall in Lynx.

Lafferty Funeral Home Incorporated is serving the family.
Condolences
Sarilee Williams - Sep 10, 2021
So sorry for your loss. Prayers for comfort in memories. Wanda was a special lady, she was loved and will be missed by many.
Tammy Hurt - Sep 10, 2021
Just heard about Aunt Wanda, and I was heartbroken. We talked a lot on the phone. She was a wonderful person, loved her dearly. Heaven gained another special angel.
Becky - Sep 2, 2021
Thoughts and prayers to Wanda's family. Wanda and my mother were best of friends at the Adams County Manor for several years. Wanda was truly a sweetheart!
Carol & Tim Daniel - Sep 2, 2021
So very sorry for your loss. Prayers that God will give you comfort and strength during this time and time to come.
Brooks - Sep 1, 2021
You are so loved mamaw. As a nurse caring for the elderly, I can't take everyone at Adams County Manor enough. You brought that sparkle of mischief everywhere you went. Enjoy your peace ❤
Franklin family - Sep 1, 2021
Sorry for your loss . Wanda was a very good person always had a smile and knew how to cheer you up. She will be missed ❤
Jennah Easterling - Sep 1, 2021
I am so sad to hear this news. Over the past year and a half I've had the pleasure of aiding Wanda in her daily activities, having talks, laughing, crying together. She was like a grandmother to me. I would go to her for advice and she would gladly give it to me. I'm gonna miss her laugh, her hugs, her kind words and her infectious personality. I love you Wanda, I'm so sorry honey! Until we meet again. Prayers for the family.
Tara J Mack - Aug 31, 2021
Many prayers for your family
Angela Pease - Aug 31, 2021
Wanda was definitely one of the sweetest ladies I've ever known, always thinking of and worrying about others and the very definition of a "social butterfly" as I often called her. I'll always remember that infectious laugh of hers. My thoughts and prayers are with her family and I hope you all find peace and comfort in knowing she without a doubt left an impression on everyone she met.
Marcia Mayo - Aug 31, 2021
Marsha & family. i am so sorry for your loss. My heart & thoughts are with you.
Rhonda - Aug 31, 2021
Heaven gained a special angel! I love you Mamaw