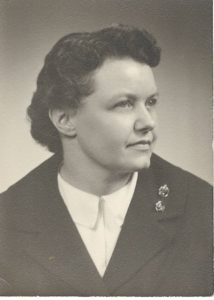 Valerie Jane Young
February 28, 1926 - May 7, 2018
Valerie Jane Young, 92, much loved and revered West Union resident died Monday May 7, 2018 at the Adams County Manor. Valerie was born on February 28, 1926 in the house that was her home for her entire life.

Valerie was preceded in death by her step father Clyde Daniel Bayless, her Mother Dorothy Dunlap Bayless, and her half-brother Richard Dunlap Bayless. She is survived by her sister in law, Helen Pearl Bayless of West Union, nephew Richard Clyde Bayless, great nephew Eric Ty Bayless of Hillsboro, OH, great nephew Trenin Kurt O'Connor Bayless of Drummond, MT, great niece Aurora Lela Helen Bayless-Edwards of Pocatello, ID, great great niece Marjie Rene Bayless of Georgetown, OH as well as several cousins.

As made apparent by the outpouring of support for Valerie in recent weeks, many pages would be required to document her life and her contributions to the people of West Union and Adams County. From her youth Valerie was a thoughtful and highly motivated participant in the life of her community.  In her teens she found employment in increasingly responsible positions and then had a career with the U.S. Postal Service.  She served as Postmaster in West Union for 10 years and after retirement she served on the West Union Village Council and as a vast reservoir for local history via the Historical and Genealogical Societies.   If you were one of the many people close to Valerie, or if you heard one of her presentations, you know she was proud to be an American and even more proud to be a lifetime resident of Adams County.  Consistent with these values, and with her family's commitments elsewhere, Valerie was pleased to have interested permanent residents acquire and preserve her property and the artifacts she had spent her life collecting and curating.

Valerie was a lifetime member of the United Methodist Church and was especially active with the United Methodist Women during the later half of her life. Her religious values factored in to all aspects of her life.  Donations to the church in her name are welcome: West Union United Methodist Church, P.O. Box 518, West Union, Ohio 45693.

The family would like to thank The Adams County Manor nurses and STNAs for giving Valerie thousands of hours of excellent care and ask community members to recognize the wonderful work done by the non-profit Hospice of Hope by making donations to them in Valerie's name: Hospice of Hope Ohio Valley, 215 Hughes Boulevard, Mt. Orab, Ohio 45154.

The visitation is 6 until 8 pm Wednesday May 9, 2018 at Lafferty Funeral Home in West Union. The funeral service is 12 noon Thursday May 10, 2018 with Pastor Al Bolte and Chaplin Laurie McNight officiating. Burial will be at Kirker Cemetery near West Union in Liberty Township.
Condolences
Billie Treftz Baker - May 10, 2018
As a" Young" cousin of Valerie's, I can speak for our other cousins in saying it was a privilege to get to know Valerie and we always looked forward to our semi-annual meeting of the "Young" cousins. We will all miss her. What a wonderful person, considerate, knowledgeable, and caring!
Erica - May 9, 2018
Val, The Manor has not been the same this week, you are missed dearly by so many.....
Amber Ruth Clark - May 9, 2018
Valerie was a wonderful and beautiful lady, with such a kind heart and warm personality. To know her was a blessing! She will be dearly missed.
Norma Blevins - May 9, 2018
Such a beautiful person inside and out. Valerie will be missed!
Skye West - May 8, 2018
What an amazing woman with whom we were all blessed!
Kathy Grooms - May 8, 2018
To know Ms. Valerie was a gift from God above; she was a lady who has left great imprints in our hearts and lives. Our thoughts are with her family, knowing the memories of her life will surpass any pain--God bless you-- thank you, Valerie, for the wonderful privilege of knowing you--we loved you dearly.
Kathy Grooms - May 8, 2018