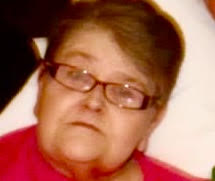 Uriena Darlene Carpenter
July 16, 1955 - February 1, 2022
Uriena Darlene Carpenter, 66, of Maysville, Kentucky passed away on February 1, 2022 at Maysville Nursing and Rehabilitation Center in Maysville. She was born July 16, 1955 in Columbus, Ohio. She is preceded by one son, Johnathan Elwood Carpenter; one daughter, Ashley Carpenter; mother, Betty Lou Carpenter; step father, Charles Mosier and one brother, Anthony Lee Carpenter.

Darlene is survived by one son, Christopher (Mia) Carpenter of Maysville; two daughters: Amy Carpenter of Aberdeen and Donna (David) Elliot of Maysville; one sister, Katherine Hughes of Ripley; many grandchildren, great-grandchildren; three nieces and special friend James Cecil Vaughn of Aberdeen.

Darlene was a former cook at K.F.C in Aberdeen for many years.  She loved to spend time with family and enjoyed watching University of Kentucky Basketball.  Go Wildcats.  She will be missed by all who knew and loved her but she will never be forgotten.



The public visitation is 5 – 8 PM Sunday, February 6, 2022 at Lafferty Funeral Home Incorporated, 205 South Cherry Street, West Union, Ohio 45693. Pastor Kevin Applegate.

Ms. Carpenter will be cremated.

Lafferty Funeral Home Incorporated is serving the family.
Condolences
Shelly Jones - Feb 2, 2022
I just want ya ll to know your mother was a very special woman to me n my three children we have lived with Darlene Ive took Darlene on vacation with me to del Rio tenn you have watched my children grow up n they loved you Darlene each one of them I've watched your children grow up also but no one can image how much I will miss u got gained him another angel RIP all our love Darlene please watch over us one day we will meet again .