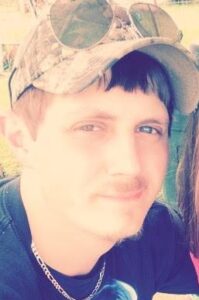 Tyler Wait
December 9, 1992 - November 19, 2021
Tyler Wait 28, of West Union, Ohio, died Friday, November 19, 2021 in Manchester.  He was born December 9, 1992 in Hillsboro, Ohio.  He is preceded by great grandparents Mary B. Cornett and Jack Rowland Sr., two great uncles: Steve Rowland and Wayne Gibson.

Tyler is survived by wife, Valerie Wait of West Union; one son, Joseph Wait (5); two daughters: Allie Wait (4) and Emily Wait (3 months); mother: Angie (Ryan) Sutter of Sardinia; step-father, Gareth (Clara) Caldwell of Manchester; one brother, Aaron Wait of Hillsboro, two sisters: Savannah Sutter of Sardinia and Taylor Sutter of Sardinia; grandparents: Joseph and Dianna Rowland; great grandparents: Roger and Geneva Gibson of Middletown; six nieces and nephews and many aunts, uncles and cousins.

Tyler was a 2011 graduate of West Union High School & Ohio Valley Career and Technical Center. He enjoyed spending time in nature; hunting, fishing or riding his four-wheeler. He was a caring husband and father. He loved spending time with his family. He was very attentive and was always sure to say I love you before hanging up the phone or walking out the door. His sense of humor was one of a kind. He will be missed dearly by everyone that knew him.

Memorial donations can be made to:

Lafferty Funeral Home Incorporated

P.O. Box 5, West Union, Ohio 45693 or 937-544-2121

The public visitation is 12 – 1 PM Friday, November 26, 2021 at Lafferty Funeral Home Incorporated.

The public graveside funeral and interment is 2 PM Friday, November 26, 2021 at West Union Cemetery, 9522 State Route 125, West Union, Ohio 45693. Pastor Tim Carter will officiate.

Lafferty Funeral Home Incorporated is serving the family.
Condolences
dillpickle - Nov 30, 2021
im so sorry for you tyler we was just getting to really know each other im gonna try to help you anyway i can man i feel so bad your family will be taken care of i can promise you that your in hevean having a good old time with papal buck and grandma mary you was an angel i know youll take care of your kids your watching all of us your the angel out in the holler rest in peace tyler you deserve it man
Tony Vaughn - Nov 26, 2021
Tyler was a great person and would help anyone at the drop of a hat and was my trail riding partner and most of all a really good friend I will miss you my friend and many prayers for you and your family rip
Abby - Nov 26, 2021
Love you Tyler you was one of my best friends always there for me I'll never forget you
Jamie crothers - Nov 26, 2021
Tyler ( kid ) he was a very good friend couldn't have asked for a better one ever since I knowed you you would give the shirt off your back to some one in need. He was like a big brother to me if I called he would pick up no matter what time it was and If I needed help on anything he was right there! Praying for his family and his sweet babys and his wife love you all so much!
Nixon - Nov 24, 2021
So SORRY, you was always so polite and mannerly towards my mom and I while you visited my uncle. Sympathy for your family. May you RIP.
Erica,Kayden and Khallie - Nov 24, 2021
I honestly don't think anyone could forget your sweet spirit,laughter the way you cared so deeply. I remember when sissy was little the babies and I coming over to just hangout with you and valerie and you and her passing sissy back and forth and you playing with Kayden. You was so young. My heart goes out to the babies and Valerie. R.I.P kid... <3
Eddie johnson - Nov 24, 2021
Sorry to hear about Tyler condolences to the family
Jenny (Pate) Combs - Nov 24, 2021
Angie, my heart breaks for you. Nothing will ever fill his place in your heart, but it will get easier. Know that I love you and I will be praying for you and your family. Hang tight to the Lord!
Krystal Elizabeth Williams - Nov 24, 2021
I loved tyler he was my best friend was there for me through everything went to prom and all I'm going to miss my best friend for ever will be missed and loved Rest in Peace 🕊️ ☮️ (KID) love you forever ♾️ and the family and the sweet babies who are is everything!
Gwen & Bill Mcswain - Nov 23, 2021
May his long walk be soft and full unexpected joys until you all together again hand in hand crossing the bridge .
Scott Baatz - Nov 23, 2021
My deepest condolences and prayers for Tyler and all the Family. I never had the privilege to meet him but Michele has told me great things. I am truly sorry for your loss