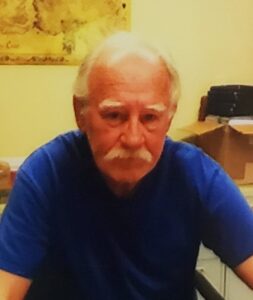 Tony L. Kimmerly
July 22, 1951 - February 23, 2021
Tony Leon Kimmerly, age 69, of Peebles, Ohio, died Tuesday, February 23, 2021 at Adams County Regional Medical Center in Seaman.   Tony was born July 22, 1951 in Maysville, Kentucky. He is preceded in death by wife Gwendolyn Carol (Arthur) Kimmerly; father, Samuel Esto Kimmerly, Jr.; one niece, Kimmerly Benson and brother-in-law, Ron Crockett.

He is survived by his mother, Helen Williams of Spring Valley; one brother, Samuel (Jewel) Kimmerly of Peebles; one sister, Kitty Denise Crockett of Spring Valley; many aunts and uncles; several nieces, nephews and friends.

Tony was a 1969 graduate of West Union High School.  He enlisted in the United States Marine Corps, the Army National Guard and the Army

Counseling Center Incorporated. His presence and support will be missed by all who knew him.

In lieu of flowers, memorial donations can be made to:

American Legion Post #633, P.O. Box 190, Seaman, Ohio 45679

The public visitation is 12 – 1 PM Thursday, March 4, 2021 at Lafferty Funeral Home, 205 South Cherry Street, West Union, Ohio 45693.

The public graveside funeral is 2 PM Thursday, March 4, 2021 at West Union Cemetery, 8522 State Route 125, West Union.

Adams County Honor Guard will perform a military service.

Due to Covid-19 Regulations, please wear a mask.

Lafferty Funeral Home Incorporated is serving the family.


Condolences
Charlene Radcliff - Apr 13, 2021
My heart is broken. I will always miss you. Praying for all your family and friends.
Deborah Carter - Mar 3, 2021
So very sorry.
Phillip and Vicki Rhonemus - Mar 1, 2021
Dear Kimmerly Families, Keeping all of you in our thoughts and prayers at this time. Always enjoyed Grange activities with Tony and family at Stonewall and Grange Youth. Sincerely,
Ted Grooms - Feb 28, 2021
An old classmate of 1969. He will be missed. RIP my old friend. God be with his family. Ted
Belinda Sininger - Feb 27, 2021
So many memories from when our families lived on Chestnut Ridge Road. Rest in peace my dear friend. Remembering the family in prayer. Gary (Wild Man) and Christy Thatcher and siblings