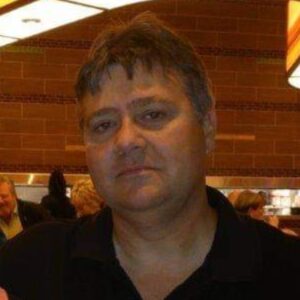 Tony Dale Young
January 11, 1967 - January 6, 2022
Tony Dale Young age 54 of Bentonville, OH passed away on January 6, 2022 at his residence. He was born January 11,1967 at Adams County Hospital to Donald and Betty Young. He was preceded in death by his father Donald Young.

Tony is survived by his wife A.J. Young (Cluxton), his mother Betty Young and brother Jay Young.  He is also survived by his children: Emmalee Young-Cox, Tony "Dustin" Young (Desiree'), Logan Young, Cole Hensley (Mackenzi Stephens), Morgan Young, Kelsey Young and Peyton Apgar. He had 8 grandchildren. He also had nieces, nephews and several close family and friends.

Tony served in the United States Army and was a member of the Veterans club, active as a Service Officer for Post 325 and a Judge Advocate Officer for Post 8287. Tony was employed at DP&L during the closing of the company. He was currently employed at GE Aviation where he worked as a Service Chemical Operator in the Engine Services.

Tony enjoyed history especially military history. The Civil War was his favorite. He enjoyed cheering on the Cincinnati Reds and Kansas City Chiefs. Tony loved dirt track racing and followed the Roush Racing drivers. He cheered for anyone who drove a FORD.

Mr. Young will be cremated. There will be a public memorial service at the Manchester VFW Post #8287 on Wednesday, January 12, 2022 from 2 - 8 pm.

Lafferty Funeral Home Incorporated is serving the family.
Condolences
Phil and Vicki Rhonemus - Jan 20, 2022
Dear Young Families, Keeping all of you in our prayers and thoughts at this time. Sincerely,
Patty hayslip - Jan 13, 2022
Betty so sorry for your loss I know what it's like to lose some one u love prayers 4 u and family
Betty R. Young - Jan 11, 2022
Tony, you and your brother are so special to us. After your dad passed away I know it was so hard on you and your brother. For a mother to lose a husband and six weeks later lose a child or as your dad called you, number one and your brother, number two, it's unbearable. It's very hard on the family left behind. I have cherished my family values of love, respect, hard work and sacrifice and always put my family first. Raising a family is not a walk in the park. I love you more than you will ever know and if you don't remember anything else, son, remember that you a precious angel but my love couldn't save you. The earth was given an incredible gift when you were born. Heaven received a wonderful angel when you died. Tony, have a wonderful birthday in paradise. The only gifts today will be the sweet memories left behind of love, laughter, joy and happiness that echo on in our hearts and our minds. So much love, Mom and Jay.
Clyta Carter - Jan 11, 2022
So sorry for your loss.
Dana Moenius - Jan 11, 2022
I'm so very sorry for your losses.
Carol Knauff - Jan 11, 2022
I'm so sorry. Praying for all of you.
Anna Young - Jan 9, 2022
Betty, It is so hard to find the right words at this time to let you know how sorry I am that you are going through this. I hated when I heard about Don and I tried to get in touch with you but nothing I tried seemed to work. Nancy sent me a message about Tony and my heart breaks for you because as you know, I have been there and it's extremely hard. My prayers are for God to give you comfort and see you through this. Please call me some time and let's get together. My phone number is 763-4626. Love you my friend.
Darla McFarland - Jan 9, 2022
Betty, I am so sorry for your loss. My heart breaks for you. This is a loss you cannot prepare for or recover completely from. As the years go by, it will get easier to deal with, but the pain never goes away. May God give you peace, comfort, and understanding. Stay strong, My friend. I love you. ❤️I'm here if you ever need a thing. Sincerely.
Anthony Robuck - Jan 9, 2022
Betty, So sorry for your loss. PRAYERS FOR THE FAMILY
Ronnie & Jeanne Grooms - Jan 9, 2022
We're so sorry for your loss. Sending hugs and prayers.
Charlie & Bettie Grooms - Jan 9, 2022
We are so sorry.
Monica Gilliam - Jan 9, 2022
So sorry for your loss
Marcella Abbott - Jan 9, 2022
So sorry for your loss. Praying for strength and peace.
Shirley Palmer - Jan 9, 2022
Betty and family, There are no words to help with your loss, my heart breaks for you. I'm so sorry. Sending hugs and prayers.
Harriet Caraway DeMint - Jan 9, 2022
So sorry Betty. Praying for you and your family during this heartbreaking time.
Delmar Williams Jr. - Jan 9, 2022
I am so sorry Betty. A parent should never have to bury a child. It is the one of the hardest things you will ever go through. Especially after Don passed shortly before Tony. We were more than cousins. We just couldn't ever get along. Even though I didn't see him often, I thought about him often. He will be missed by everyone. My prayers are with you and the rest of the family and friends.