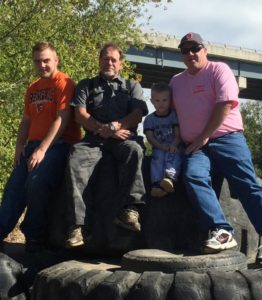 Thurman E. Horsley
June 14, 1953 - September 24, 2018
Thurman E. Horsley, 65, of Stout, Ohio passed away on Monday, September 24, 2018 at his home. He was born June 14, 1953 in Green Township in Adams County Ohio. He was preceeded in death by his parents, Cecil and Lora (Blevins) Horsley; daughter, Crystal Raegine Horsley; brothers, Raymond Horsley and Cecil Horsley, Jr.

Thurman is survived by his wife, Darlene Horsley of Stout; son, Elvis and wife Melinda Horsley of Manchester, Ohio; sister, Lois Hackworth of Stout; four brothers: Roy Horsley of Stout, David Horsley of Stout, Herman Horsley of Blue Creek, and Allen Dale Horsley of Blue Creek; two grandsons, Gabriel Ethan Horsley and Alexander Shiloh Horsley, and numerous nieces and nephews.

Thurman was a logger and a farmer.  He was a member of the Stoney Run Tabernacle. He was a loving husband, father, and grandfather and he loved spending time with his grandsons.

In lieu of flowers, memorial donations may be made to Lafferty Funeral Home, Inc., 205 South Cherry Street, West Union, Ohio 45693.

Visitation is from 6 until 8 pm on Thursday, September 27, 2018  at Lafferty Funeral Home in West Union.  The funeral service is 11 am on Friday with Pastor James Pertusett officiating. Burial will be at High Hill Cemetery in Green Township.
Condolences
Phillip and Vicki Rhonemus - Oct 23, 2018
Dear Horsley Family, Continuing to keep all of you in our thoughts and prayers. Sincerely,