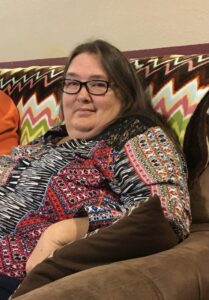 Tammie Lee Blythe
August 17, 1960 - July 25, 2022
Tammie Lee Blythe, 61, of West Union, Ohio passed away on July 25, 2022 at her residence. She was born August 17, 1960 in Middletown, Ohio. She is preceded by her father, Gladville Nelson Allen.

Tammie is survived by her husband, Richard Allen Blythe of West Union; mother, Sadie Ruth Allen of Chillicothe; two brothers: Larry Ray Allen and Roger Dean Allen; five children: Jeremy Lee Allen of West Union, Jessica Lynn (Mark) Holcomb of Rawlins, Wyoming, Cassaundra Beth (Michael) Durbin of Peebles, Jason Walter (Mary) Cornell of Sadieville, Kentucky and Christopher "Chris" Wesley (Victoria) Cornell of Otway; two stepchildren: Linda McEntire of West Union and Justin Allen (Hanna) Blythe of West Union; 14 grandchildren: Brennen Gage Wesley Allen, Ryleigh Alexis Allen, Chase Wesley Holcomb, Connor Cole Holcomb, Carter Mason Holcomb, Logan Mitchell Durbin, Luke Anthony Durbin, Liam Isiac Durbin, Katelynn Grace Cornell, Lindsay Clair Cornell, Chestena Doss, Harold Blythe, Lillyann Blythe and Eleanor Blythe.

Tammie was a proud member of the West Union Church of Christ. She loved spending time with her husband, children and grandchildren.  She enjoyed crocheting, crafting, reading and raising birds and fish.

The public visitation is 11-1 PM Friday, July 29, 2022 at Lafferty Funeral Home Incorporated, 205 South Cherry Street, West Union, Ohio 45693.

The public graveside funeral will be 2 PM Friday, July 29, 2022 at the Decatur Cemetery in Byrd Township in Brown County. Pastor Doug Shelton will officiate.

Lafferty Funeral Home Incorporated serves the family.
Condolences
Bonnie Trosper (Bennington) - Jul 31, 2022
I am so sorry for your loss! I went to school with Tammie! I will always miss her smiling face!
Judy Wingo - Jul 29, 2022
My sincere condolences to you and your family at this time of deep sorrow. Tammie may be gone but the memories of her will always be cherished. She was such a sweet person and she will be missed by all.
Anita Smothers - Jul 26, 2022
Tammie & I were & always will be BFF's & maybe not sister's by blood but we were in our hearts. We had so much fun every time we were together. She was definitely an ANGEL sent to me from God. Tammie had a heart of Gold & if she told you she was your friend then she was your friend & she would do anything for her family & friends. She will be greatly missed by me & so many others. My Deepest Condolences to the who family. I love you Tammy & know you will be missed,,, Much missed. Love Anita
Nancy monroe - Jul 26, 2022
I am very sorry for the passing of Tammie. She will be greatly missed by my family. I will love her forever.