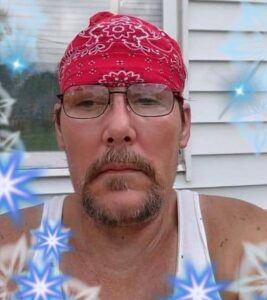 Steven Lockhart
June 11, 1968 - March 14, 2023
Steven Lockhart, 54, of Peebles, Ohio passed away on Tuesday, March 14, 2023 at The University of Cincinnati Medical Center. He was born June 11, 1968 in Chicago, Illinois.  He is preceded in death by parents: James Edward Lockhart, Sr. and Sandra Jean (Mason) Myhre and one sister, Mindy Gale Mason.

Steve is survived by his girlfriend, Cyndi Ocampo; two brothers: Timothy Lockhart and James Edward Lockhart, Jr.; two sisters: Vickie Wilmeth and Amanda Mason; several nieces, nephews and friends.

Steve had a heart of gold and always helped anyone in need.  He loved his family and friends dearly.  He will be missed by all who knew him.

Mr. Lockhart will be cremated.  A celebration of life will be held June 11, 2023.

Friends can sign online condolences at www.LaffertyFuneralHome.com

Lafferty Funeral Home Incorporated serves the family.
Condolences
Connie Myers - Apr 11, 2023
I thought of you as a son.You made me smile when you said I was your second mom and your heart was so pure.I miss you so much and you were family.RIP
tempie nichols - Mar 27, 2023
Going going to miss you Steve so much can't believe you are gone had to so any fun times with you I don't know what to say im here with a broken heart thinking about you rest in peace love you always rest in peace until we meet again love you never gone but later
Lisa Hile - Mar 26, 2023
You'll always be missed bub. You were the brother I always wanted but never got to have. We shared a lot of great times together and some sad ones too, thank you for being a great friend and a great bro!! RIP Steve
Timothy - Mar 25, 2023
There are no words that can describe how big my brothers heart was,he was a very caring loving man ,would give you his last dollar if asked,I will miss him so much.
kim Harcourt - Mar 24, 2023
so sorry for your loss My prayers are with you and your family R.i.p.Steve lockhart.
Sandie - Mar 23, 2023
I'm so sorry to hear about Steve. May he finally be at peace. Love ya Steve
Mendy - Mar 23, 2023
Going to miss talking an running the roads you will be missed steve oooooooopo RIP STEVE 🙏
Julia Tackett - Mar 23, 2023
Going to be miss there Steve. RIP Steve.
Gary Thomas - Mar 23, 2023
My your soul flow freely Steve u will be missed by so many luv ya bub
Joyce & Devon & Dustin - Mar 23, 2023
You were loved by so many and you will be greatly missed. Joyce and boys.