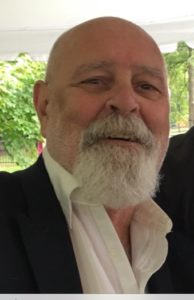 Stephan Reynolds Stultz
January 22, 1948 - March 5, 2019
Stephan Reynolds Stultz, also known as "Stultzy", climbed the "Stairway to Heaven" on March 05, 2019 while in the arms of his three children.

His kindness and gentle soul enriched all who knew him. With a smile that brought sunshine and warmth, he would always light up a room.  He never met a stranger and never knew how many lives he touched or the magnitude of how loved he really was.  What he did know is he was a "very lucky individual" and he said it often.  Stephan forged a 71 year trail of laughter, generosity, encouragement, compassion and wisdom.  The void he has left will be filled by all of the stories, memories and strength he shared with the world, just as he wanted it.

His legacy lives on through his daughters, Celeste Stultz, Shannon Rae Rynes (Matt Rynes) and his son Matthew Stephan Stultz (Heather Stultz). His grandchildren Anthony Michael Pearson (Shannon Pearson), Hannah Nicole Pearson, Sidney Raven Elizabeth Rynes and Chandler Andrew Brining   His great granddaughter, Evelyn Celeste Lucas and by his mother, Gladys Ruth Stultz and his sister Janet Johnson (John Johnson). Preceded in death by his father, Richard F. Stultz, his sister Sara White and his brother James "Rock" Stultz.

Visitation will be held in Stephan's home town, March 23, 2019 from 11-1pm with a memorial service directly following at the West Union Presbyterian Church 110 S 2nd St, West Union, OH 45693.

Memorial donations in celebration of Stephan may be made to the West Union Presbyterian Church 110 S. 2nd St., West Union, OH 45693 or to the Wounded Warrior Project by calling 855-448-3997 or online at https://www.woundedwarriorproject.org/donate under "Honor & Memorial Donation".
Condolences
Kay Cook - Mar 23, 2019
My thoughts and prayers are with you during your loss. I did not know Richard, but I know his mother, Gladys & sisters Jan & I had classes at MSU with Sarah. I am sure the love he shared with others will live forever. In deepest sympathy. Kay Ludwick Cook
Sammie, Tammy, Samone, Tamara and kids Williams - Mar 22, 2019
We were sadden to hear that our friend passed away. Our thoughts have been with all of you. Steve was a great neighbor, always smiling. He welcomed our diverse family into the neighborhood as if we were his family. He never met a stranger. When the kids were young, loved looking at his fish. lol When my grandson was a toddler, he would let him sit on his motorcycle. He cared and watched out, for all of his neighbors. He will be greatly missed. Thinking of you all, as you celebrate your father's remarkable life. Our family is keeping your family in our thoughts. With deepest sympathy. Sammie, Tammy and Samone Williams Tamara Nance and kids
Phillip and Vicki Rhonemus - Mar 21, 2019
Dear Jan, Gladys Ruth, and all family, Keeping all of you in our thoughts and prayers at this time. Steve was one of the older members of the Presbyterian Junior Choir and Mrs. Harsha's Sunday School Class when we first moved to Adams County in the late 50's. He will be missed. Sincerely,
Sandy Ditmer - Mar 19, 2019
First of all so much sympathy to Gladys, his mother, and his children Celeste, Shannon and Matthew. I know how much you loved him and how much he will be missed. He truly was a wonderful person and a friend to all who knew him and to the ones he met. I will never forget his smile,his voice and always his "words of wisdom" and being my friend when I felt so alone and needed someone to talk to. He could always make me laugh and tell me that life would get better. I know he and our fellow classmates are together and sharing stories from our class of
Brenda Gayle (Stamm) Prager - Mar 19, 2019
Condolences to the entire family. I was so sorry to learn of your loss. Steve could always light up a room with his smile and his stories. RIP honored member of the Senior Slicks of '66. God bless you all!
Mary May - Mar 18, 2019
Shannon , Celeste an Mat, my heart hurts for all of you. God be with you.
Shannon - Mar 18, 2019
I love you Daddy.
Stephanie George Birhanzl - Mar 18, 2019
My deepest sympathy to Celeste, Shannon and Matt.. and the entire Stultz family. Keeping you in my thoughts and prayers.
Marci Carroll - Mar 16, 2019
Love you Stultz family. Sure am going to miss this man and our laughter together. Heart is heavy. Condolences to you for time heals and his memories are the best!
Robert block - Mar 16, 2019
Wow knowing how close this family is and how many life's you touched there is a hole never to be fillled .. thinking of the Stultz family during these times and wishing them the strength they need.
Anne McCarthy - Mar 15, 2019
I still cannot wrapped my head around this loss. Sending positive vibes and virtual hugs to all who knew him. You picked a great photo. ❤️
Shelley Leopard - Mar 15, 2019
You are truly missed. Hugs and love, Celeste, Shannon and Matt forever and always.
AnnMarie Willeman-Shaner - Mar 15, 2019
A beautiful tribute for a beautiful soul. I loved visiting your home when Uncle Rock and I came to see the family.He was the comic relief and heart of the Stultz clan.I hold you all in my heart.
Dave mills - Mar 15, 2019
I am so sorry for your families loss.Your father was a great man but you already knew that. I know he is one man in my life that I won't forget cause he always left a lasting impression on me as well as many other people.