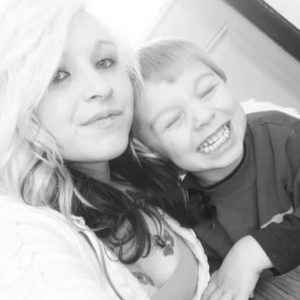 Stacey Jean Minton
June 22, 1992 - February 24, 2019
Stacey Jean Minton, 26, of West Union, Ohio passed away on Sunday, February 24, 2019. She was born June 22, 1992  in Georgetown, Ohio.  She was preceded in death by her maternal grandmother, Thelma Redmon, and paternal grandfather, Clint Minton, Jr.

Stacey is survived by her children, Bentley, Roy Jr., Aaliyah, and Mackenzie; mother, Ginger Blythe of Peebles; father, Jeff Minton (Linda Grooms) of West Union; brother, Jeffrey Minton of Seaman; maternal grandfather, Dennis Teegarden of Kentucky; paternal grandmother, Helen Minton of West Union, and several aunts, uncles, nieces nephews and cousins.

In lieu of flowers, memorial donations may be made to FRS Counseling, P.O. Box 516, West Union Ohio 45693.

The Graveside Funeral Service is at 11 am on Monday, March 4, 2019 at Kirker Cemetery in Liberty Township near West Union. Pastor Dale Little will officiate.
Condolences
Vickie Bivens - Mar 1, 2019
Jeff - I am very sorry for your loss of your daughter
Lisa Kirk Young - Feb 27, 2019
Jeff, Ginger & Family, so sorry for your loss. May God comfort you all!! God Bless!!
Cathy Perry - Feb 26, 2019
Ginger I'm so sorry for the loss of your daughter. You are in my prayers. Love you and I'll always love you. You have the grandchildren to keep her in your memories.
Anita Yevonne Smothers - Feb 26, 2019
Ginger, I am so very, very sorry for your loss. Kayla & I were just talking about when they were little & we went to Thelma's & you & the children would 've there & her & stacy playing together. Those are some great memories. Sweetie I am here if you need me for anything. All my love & prayers. Anita