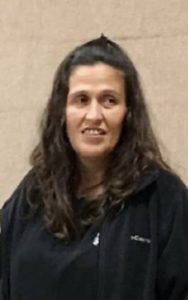 Shawnda Gay (Grooms) Campbell
February 21, 1979 - November 25, 2019
Shawnda Gay (Grooms) Campbell, age 40, of West Union, Ohio, formerly of Lynx, Ohio, passed away Monday, November 25, 2019 at University of Cincinnati Medical Center. She was born February 21, 1979 in West Union to Charles Ray Grooms and the late Shelba Jane (Hayslip) Grooms.

Shawna is survived by her loving husband: Jackie Cole "J.C." Campbell of West Union; children: Landon Cole Campbell, Carry J. "Chucky" Hayslip Jr., Nakita Ann Hayslip, and Kilee Raye Campbel, all of West Union; one step-daughter: Rebecca L. Campbell of Maysville, KY; father and step-mother: Charles "Bus" (Peggy) Grooms of West Union; siblings: Jason Ray "Jake" Grooms' Bradley G. Grooms' Brian Keith (Veronica) Grooms, Connie (David) Francis, and Rachel Grooms, all of West Union, Travis Grooms and Eric Grooms, both of Lynx, Ohio; one granddaughter: Elizabeth Jane Hayslip of West Union; and many aunts, uncles, nieces, and nephews.

The visitation is from 12 pm until 2 pm on Monday, December 2, 2019  at Lafferty Funeral

Home in West Union. The funeral will follow at 2 pm with Pastor Pete Francis officiating.

Burial will follow at the West Union Cemetery.

Lafferty Funeral Home in West Union is serving the family.
Condolences
Rachel Rodano - Dec 11, 2019
Sorry for your loss may God bless you all love and prayers to you and yours God bless you
Greg & Lisa Young - Dec 2, 2019
Grooms Family, Greg & I are sorry for your loss. Our Thoughts & Prayers are with you all!
Anita Smothers - Dec 2, 2019
Bus, JC, Connie & families, I am so very sorry for your loss. Shawnda was such a good person & I never seen her without a smile on her face. And she was such a good mother to her kids. She always seem to be so understanding witn all of them. She will be missed by so many. If you all need any thing at all I'm here. My thoughts & prayers are with each & every one of you. I love you all like my own family. My Deepest Condolences Anita Smothers
Nakita - Dec 2, 2019
I miss you so much mommy, I love you! Fly high with the angels momma❤️
Tim Caudill - Dec 1, 2019
MANY PRAYERS FOR THE FAMILY,EVERYONE LOVE THIS DEAR LADY ,SISTER GO REST HIGH ON THAT MOUNTAIN .
Summer - Nov 29, 2019
Me and Brielle love an miss you so much Aunt Shawnda. ♥️
Jimmy crum - Nov 29, 2019
So sorry for your loss, Your all in our prayers. 🙏
Deanna Clifford & Mike Bowling - Nov 29, 2019
My heart breaks for the family shawnda was a very sweet loving caring cousin that loved her family very much Everytime I seen her she always had that beautiful smile you are in our hearts and prayers you may be gone but your memories will last and keep going forever love you the family is is our prayers love you Deanna & Mike
Malone family - Nov 29, 2019
Praying for the family..
nora stancil - Nov 29, 2019
prayers for the family