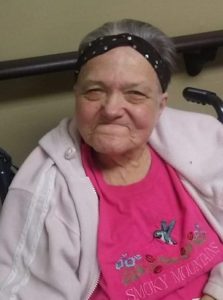 Sharon Hayslip
November 10, 1948 - May 28, 2019
Sharon Hayslip, 70, of Blue Creek, Ohio passed away on Tuesday, May 28, 2019 at the Clermont Mercy Hospital in Batavia, Ohio. She was born November 10, 1948 to the late Ray and Iva (Boldman) Hanson. Besides her parents, she was preceded in death by her husband, Wendell Hayslip, and stepmother, Ruth Hanson.

Sharon is survived by her children: David (Denise) Hayslip of West Union, Jodi Rothwell of West Union, and Renee Thacker (Roger McCoy, Jr.) of West Union; sister, Bonnie Hanson of Sebring, Florida; brother, Dennis Hanson of Sebring, Florida; 8 grandchildren; 8 great grandchildren; son-in-law, Phillip Rothwell, and many nieces, nephews, cousins and friends.

Sharon was a homemaker and attended Blue Creek Community Church when her health permitted. She attended church services at Eagle Creek Nursing Center.

Memorial donations may be made to the American Diabetes Association, 10200 Alliance Road, Suite 101, Cincinnati, Ohio 45242.

The visitation is from 11 am until 1 pm on Monday, June 3, 2019 at Lafferty Funeral Home in West Union. The funeral service will follow at 1 pm with Pastor Julie Horsley officiating. Burial will be at Moores Chapel Cemetery in Blue Creek.


Condolences
Phillip and Vicki Rhonemus - Jun 3, 2019
Dear Hayslip Family, Keeping all of you in our thoughts and prayers at this time. Sincerely,
Rhonda henderson - Jun 1, 2019
Sorry forr your loss
clotina Chamblin - May 30, 2019
im so sorry for ur loss
Nedra Vogler - May 30, 2019
My deepest sympathy to the family.
Christopher Beam - May 29, 2019
David and family, I am very sorry to hear of your mom's passing. Your mom was a very special lady. Many fond memories of her and your dad when I was their agent.