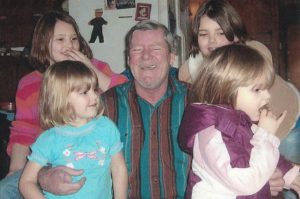 Samuel Ray Unger
September 25, 1953 - December 4, 2018
Samuel R. Unger, 65, of West Union, Ohio passed away on Tuesday, December 4, 2018. He was born September 25, 1953 in Georgetown, Ohio. He was preceded in death by his father, Ernest Andrew Unger.

Sam is survived by his wife, Patricia (Ruark) Unger of West Union; five children: Sam (Laura) Unger of Blanchester, Ohio, Robert (Jennifer) Unger of West Union, Marcella (Calvin) Blythe of West Union, Lillian (Rob) Mitchell of Georgetown, and Katrina Powers of Washington Court House, Ohio; mother, Lillian Baker of West Union; sister, Teresa Wolford of Manchester; brothers, Terrance Unger of Aberdeen, Ohio and Jeff Unger of West Union; 14 grandchildren; 3 great grandchildren; uncle, Johnny Hanson, and several nieces and nephews.

In lieu of flowers, donations may be made to Lafferty Funeral Home, Inc., P.O. Box 5, West Union, Ohio 45693.

The visitation is from 11 am until 1 pm on Friday, December 7, 2018 at Lafferty Funeral Home in West Union. The funeral will follow at 1 pm

with Pastor Tommy Brown officiating. Burial will be at Kirker Cemetery in Liberty Township in Adams County.

Lafferty Funeral Home in West Union is serving the family.




Condolences
Joni - Dec 6, 2018
I remember Sam and Robert when we were kids. They were neighbors of mine. Sorry for the loss of your dad.
Lisa highfield - Dec 5, 2018
I have known Sam for a few years because my mom was married to his brother terry and he was a funny and wonderful man it's just hard to beleave he is gone . We will miss him so much prayers sent to patty and family ..