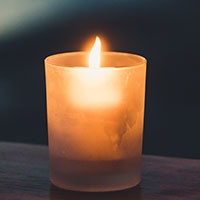 Ruthann Banks
January 23, 1948 - January 10, 2022
Ruthann Banks, 73, of West Union, Ohio, passed away on January 10, 2022 at the Adams County Regional Medical Center in Seaman, Ohio.

Ruthann Guenthner was born in Hamilton, Ohio to Philip and Virgina Guenthner on January 23, 1948.  She married Clifton Banks on July 10, 1967 in Overpeck, Ohio.

Ruthann is preceded in death by her husband, Clifton, her son Clifton Banks Jr., her brothers and her sister, Johnny (Betty) Guenthner, Philip Guenthner, Donna Guenthner and her parents Philip and Virgina Guenthner.

Ruthann is survived by her daughter; Marlene 'Penny' (Chris) Willis, her brother; Mike Guenthner, her grandchildren; Anna Banks, James Banks, Jared (Bethany) Willis, Haley (Jonathan) Dixon, Josiah (Tekoa) Willis, Heather Willis, Hope Willis and two great grandchildren; T.J. Rivera and Roman Willis.

Ruthann was a member at the Youngsville Pentecostal Holiness Church. She spent much of her life caring for her husband Clifton while he struggled with Parkinson's Disease. She loved crocheting, spending time with friends and family and spoiling her little dog, Oakley.

Pallbearers; Chris Willis, Jared Willis, Josiah Willis, Jonathan Dixon, James Banks, Mike Guenthner

Visitation: Thursday January 13, 2022 from 12pm – 2pm, at the Youngsville Pentecostal Holiness Church located at 16551 State Route 247, Seaman, Ohio 45679

Funeral: Thursday January 13, 2022, 2pm, at the Youngsville Pentecostal Holiness Church with Pastor Doug Hymer officiating.   Burial will follow at Moore's Chapel. Arrangements made by Lafferty Funeral Home.
Condolences
Carol & Tim Daniel - Jan 15, 2022
We extend our deepest sympathy to all the family. So very sorry for your loss. Prayers for peace and comfort for all.