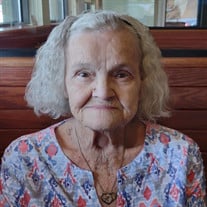 Rosalie "Rose" Delaney
September 16, 1937 - August 16, 2021
Rosalie "Rose" Delaney, 83, of Leesburg, Florida died Monday, August 16, 2021 at AdventHealth Waterman in Tavares, Florida. She was born September 16, 1937 in Versailles, Kentucky.  She is preceded in death by parents: Conley and Bulha Caldwell; husband, Esby Delaney; one son, Conley Lee Delaney and several brothers and sisters.

Rose is survived by one son, David Delaney (Sonya) of Peebles; three daughters: Rose Mobbs (Bernie) of Palm Coast, Florida, Priscilla McClanahan (Marion) of Tavares, Florida and Kate Blankenship (Mike) of Peebles; one brother, Walter Kidd (Lucy) of Kentucky; one sister, Judy Finn of Kentucky and several grandchildren and great-grandchildren.

Rose was a homemaker and enjoyed puzzles and was an avid reader. She relocated to Leesburg, Florida from Adams County just a few months ago.

The public Graveside funeral is 2 PM Monday, August 30, 2021 Evergreen Cemetery, 3834 Steam Furnace Road, Peebles, Ohio 45660.  Pastor Bill Ryan will officiate.

Lafferty Funeral Home Incorporated is serving the family.
Condolences
Michael DeLong - Aug 29, 2021
Rose was a wonderful friend and person, she and my mom cooked for the dinners at the church she was a great mom and grandmother I remember many days at church together I visited her home many times she made you feel welcome and never left without eating something. She will be missed by us all. If my mom Josephine ( Jo ) was here she would say the same. We loved you Rose
Ronnie & Karen Creighton - Aug 28, 2021
You all are in our prayers. Love you
Debbie Reel - Aug 22, 2021
My heart is Heavy for you All! We know that God in Heaven is in full control and Rose is having the time of her life! That's a Great Consolation. Hoping you all know that you are in my thoughts and prayers in this heavy hearted time. Can't wait to see her again one day soon. Precious in the sight of the Lord, is the death of His Saints! Psalms 116:15 Amen!
Pam Angeline - Aug 22, 2021
I was so sorry to hear of Rose passing. I always enjoyed our times together. Prayers for the family
Jerri Bryant - Aug 22, 2021
Prayers for the family. Rose has been my rock since my birth and I know how hard it is to lose a parent, my thoughts are with you. Love you all.