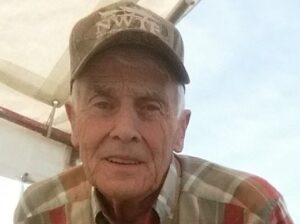 Ronald U. Cross
January 13, 1941 - November 25, 2022
Ronald U. Cross, 81, of Winchester, Ohio passed away on Friday, November 25, 2022 at Mercy Health-Anderson Hospital in Cincinnati. He was born January 13, 1941 in Amelia.  He is preceded in death by parents: Benjamin Gibson and Marjorie Arbell (Wickerham) Cross; two sisters: Betty Johnson and Judith Kirker and one brother, Kenneth Cross.

Ronald is survived by loving wife of 62 years, Donna J. Cross of Winchester; two sons: Ronald Bradley (Tracy) Cross of Reidville, South Carolina and James Russell (Deana) Cross of Winchester; four grandchildren: Amanda (Dan) Cahill of Fairborn, Brian (Beth) Cross of Bay-Minette, Alabama, Brandon (Ceresa) Cross of Williamsburg and Brittany (Bill) Young of Winchester; six great grandchildren: Jayna Cross, Jackson Cross, Rayce Young, Corbin Young, Adalyn Young, and Connor Cross.

Ronald adored his family and loved spending time outdoors, he enjoyed hunting and fishing. He returned to his family farm in 1958 and helped his father start Cross Furniture. He spent 12.5 years working at Walmart.  He is well known for his kindness and caring heart; he will be deeply missed.

In Lieu of flowers memorial donations can be made to:

East Liberty Church

2938 Tulip Road, Lynx, Ohio 45693



The public visitation is 5 – 7 pm, Friday, December 2, 2022 at Lafferty Funeral Home Incorporated, 205 South Cherry Street, West Union, Ohio 45693.

Mr. Cross will be cremated following the service.

Lafferty Funeral Home Incorporated serves the family.


Condolences
Fred Starcher - Dec 2, 2022
So sorry for your loss Brad. It's always difficult to lose a loved one. Prayers for you and your families. 🙏🙏🙏
Terry Myers - Dec 2, 2022
Brad, Sorry for Your Loss ,Prayers for You & Family !!!!!!!!!!!!!!!!!!!!!
Brian Scott - Dec 2, 2022
Brad, so sorry for your loss. This day is the day we all dread. May you find peace and comfort and heal as quickly as possible. Take care my friend.
Bob and Vickie O'Brien - Dec 2, 2022
So Sorry for your loss. Prayers are going up for the family. Bob and Vickie
Bill and Martha - Dec 1, 2022
So sorry to learn of Ron's passing. Cousin Janice McCarty sent me a message about it. We have made our move to MS to the Armed Forces Retirement Home just this past Tuesday and cannot be there for the services but please know that you will be in our prayers.
John T and Elaine Lafferty - Dec 1, 2022
Donna, we send our sincere sympathy to you and all of Ron's family. He was a fine person and will truly be missed by so many.
Connie Butts - Dec 1, 2022
So sorry for your loss. Thoughts and prayers are with you and your family.
Nathan,Cammie Richmond - Nov 30, 2022
Although no words can really help to ease the loss you bear, just know that you are very close in every thought and prayer.Ron was a good man and will be missed dearly If we can do anything please let us know
ReeceAnn - Nov 30, 2022
Donna, Brad and family, Your in my thoughts and prayers. May you find comfort during this time
Patty Hayslip - Nov 30, 2022
Please accept my condolences. Your family is in our prayers
Cheryl daulton - Nov 30, 2022
Sorry Donna and family we will all miss him If you need anything let is know In our prayers
Charlene and Jim Hull - Nov 30, 2022
Thoughts and prayers are coming your way, Donna. Take care and God bless you and your family.
Joyce Young - Nov 30, 2022
Donna, so sorry for your loss, Ronnie was a wonderful caring person and he will definitely be missed but never forgotten, prayers for comfort and strength. Love you
Sandra Grooms - Nov 30, 2022
Donna, I am so sorry to hear about Ronnie. May God comfort you in this trying time. Sympathy and hugs to the family.