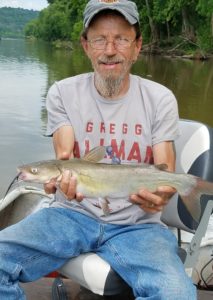 Roger Dean Robinson
March 27, 1962 - January 1, 2018
Roger Dean Robinson, 55, passed away Monday, January 1, 2018. He was born March 27, 1962 in Maysville, Kentucky. He was preceded in death by his father, Alfred Ronnie Robinson.
Dean is survived by his mother, Hester Sue (Bilyeu) Robinson; brother, Craig; sister, Sheri; his wife, Rachel; sons, Zachery Robinson and Samuel Grooms; daughters, Kayliegh Robinson and Daisy Grooms; many special cousins, nieces and nephews, and longtime special friends, Gene Laney and Chad Lewis.
Dean was a former employee of GE in Peebles and a carpenter. He was enjoying retirement to the fullest and riding as hard as he lived his life.
The visitation is 4 until 6 pm Friday, January 5, 2018 at Lafferty Funeral Home in West Union. A private burial service will be at the family cemetery in West Union. Family and friends will be having a drink at the VFW in Manchester where Dean was a member to celebrate a life well lived to the fullest.