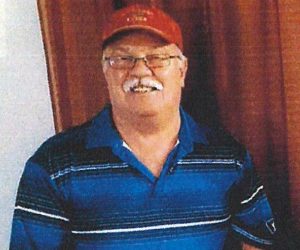 Roger Dale Evans
March 23, 1956 - May 1, 2019
Roger Dale Evans, 63, of West Union, Ohio died Wednesday, May 1, 2019 at home. He was born March 23, 1956 in West Union, Ohio.  He was preceded in death by parents, Oscar Eugene Evans and Helen Ann (Fitzgerald) Evans.

Roger is survived by four sisters:  Rilla (Tom) Nichols of West Union; Patsy (Joe) Corral of Deltona, Florida; Tammy (Rick) Parker of Stout and Libby (Adam) Wenz of Covington, Kentucky; two uncles: Ross (Martha) Fitzgerald and Floyd (Anna) Evans; two nephews: Eddie (Tommy) Nichols and David Nichols; two nieces: Christina Shively and Alicia Scott; and twins: great niece, Amber Scott and great nephew, Ryan Scott.

Roger was an employee of Walmart in West Union; a former custodian of the Adams County Hospital for 24 years in West Union; and a former custodian for the Dayton, Power and Light Company at the Killen Station in Monroe Township for 17 years.

The Funeral Service is Thursday, May 9, 2019 at 2 PM at Lafferty Funeral Home in West Union. Reverend Chris Swords will officiate. The visitation is 11 AM until 2 PM Thursday. The Interment will follow at Sunshine Ridge Cemetery in Green Township.
Condolences
Susan Gast - May 11, 2019
I am so deeply sorry to hear of Rogers passing. He & I worked many years together at ACH. He was the most kind hearted person & always had a smile. Rog, as I always called him, was a great friend. I will forever miss him. Prayers for your family.
Brenda & Lorren Nehus - May 9, 2019
Sincerest sympathies for the loss of Roger, he was a treasured family friend!!!!
Chey Chapman - May 9, 2019
Roger was one of the nicest, sweetest people I've ever met. He always smiled and was so courteous to everyone. He never knew a stranger. He was an amazing coworker and an even better friend. He will be missed so dearly.
Sherry Jones - May 8, 2019
I have known Roger for several years and can not remember a time he was not smiling. He was a kind and caring person. He will be missed. RIP my friend.
Darlene (Boldman)Myers - May 7, 2019
Bill and I loved Roger and will always remember him with a smile on his face...We cherish all the years of being in church with him and his family. He will be missed.
Darlene Myers - May 7, 2019
I worked with Roger for years at ACH he will be missed by all who knew him, will keep his family in my thoughts and prayers.
Chef Tee - May 7, 2019
He was one of my favorite customers and I'm going to miss him so very much. He always had a smile on his face, he was a delight to be around and never knew a stranger. He came in the day that he passed away he got a cup of soup and his favorite cheesecake I'm so glad I had it for him. Rest In Peace my friend.
Rosanna Cope - May 7, 2019
So sad for the loss of your brother ,Tami & your uncle, Alisha!! Love & prayers
Grace Parks Ewing - May 7, 2019
Roger was the sweetest guy I knew, always had a smile for everyone. Went to church with his family for years. You sure will be missed Roger, fly high sweet friend and R.I.P💕
Danette Martin - May 7, 2019
Roger always offered a kind smile & a hello. He will be missed.
Kelly Cora - May 7, 2019
I worked with Roger at the Killen station always had a smile on his face. Roger got his angel wings this world will miss Roger he was in a million
Rhonda henderson - May 7, 2019
Sorry for your loss
Harry and Lynn Slusher - May 7, 2019
Thoughts and prayers. Roger was a wonderful person. He will be missed.
Jo Rogers - May 7, 2019
Worked with Roger at ACH for a long time. He was good guy. He will be missed.💕
Judy Laney - May 7, 2019
I worked with roger for many years at Adam's county hospital we always,spoken when we saw each other. So sorry he will be missed