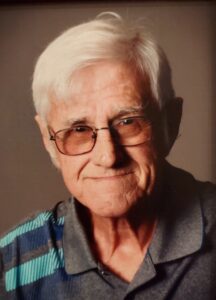 Richard Arlen Smith
October 3, 1938 - November 9, 2021
Richard Arlen Smith, 83, of West Union, Ohio died November 9, 2021 at The Adams County Manor.  He was born October 3, 1938 in Chillicothe, Ohio.  He is preceded by wife, Barbara (Cooke) Smith; parents: Richard E. and Ruth Ann (Stover) Smith.

Richard is survived by four children: Diana M. (Harvey) Cohen of La Grange, Kentucky, Nancy A. (David) Hook of West Union, Trisha E. (Gregory) Schumacher of West Union and Kenneth A. (Kimberly) Smith of West Union; six grandchildren; seven great grandchildren; one sister, Shelley (Butch) Ricketts of Chillicothe and special friend, Naomi Smalley of Peebles.

Richard was a 1957 graduate of Chillicothe High School and then served in the US Army. He retired from D.P. & L. and was employed at the J.M. Stuart Station. He was a former member of the West Union Volunteer Fire Department and a former West Union Village Councilman. He was a former Clever Clover 4-H advisor. He was a member of AMVETS and the West Union Church of Christ.

Memorial donations can be mailed to:

Humane Society of Adams County Incorporated

P.O. Box 245, West Union, Ohio 45693

Mr. Smith will be cremated.  A graveside service and inurnment is at 2 pm, Saturday, December 4, 2021 at St. Margaret Cemetery, 510 Worthington Avenue, Chillicothe, Ohio 45601. Ross County Honor Guard will perform a military service.

Lafferty Funeral Home Incorporated is serving the family.
Condolences
Patricia Dorton Whitaker - Nov 22, 2021
Sorry to learn of your father's passing. Please know you are in my heart and prayers.
Christine Campbell - Nov 14, 2021
May the memories that mean the most to you live forever in your heart.
Joy Miller-Fite - Nov 14, 2021
To the Smith Family. I remember your Dad when he was on Village Council and I was the Village Clerk and your Mom in the Election Board. As we grow older, we remember those times as the good old days. May your memories be a comfort to you now. You have my condolences.
Rick and Belinda Sininger - Nov 13, 2021
The Lord is close to the brokenhearted (Psalms 34:18). Hoping the family can find much comfort in this promise. Many good memories of working with Richard many years ago at DP&L.
Becky fields Foster - Nov 13, 2021
SO SORRY TO HEAR OF YOUR DADS PASSING .YOU ARE IN OUR THOUGHTS AND PRAYRRS
Phil and Vicki Rhonemus - Nov 12, 2021
Dear Ken, Nancy, Trish, and All Extended Smith Family, Keeping you in our thoughts and prayers at this time. I don't know if I ever actually met your father, but felt I knew him through Ken and my conversations on the way to ballgames over the years. I am sure he will be missed. Sincerely,
Elaine and John T Lafferty - Nov 12, 2021
We send our sincere sympathy to all of Richard' s family, Elaine and John T.