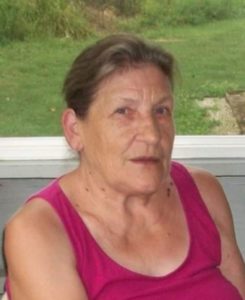 Reva (Watts) Hilderbrand
June 13, 1942 - October 24, 2019
Reva (Watts) Hilderbrand, 77, of Manchester, Ohio passed away Thursday, October 24, 2019 at Christ Hospital in Cincinnati, Ohio. She was born June 13, 1942 in Magoffin County, Kentucky to the late Ambrose and Sarah (Lyons) Watts.

Reva is survived by her husband, Sam Hilderbrand of Manchester; children: Oma Morgan of Indianapolis, Indiana, Leah Lainhart of Ripley, Ohio, Sam (Leann) Hilderbrand of Seaman, Ohio, Maria Clifford of West Union, Ohio and Joshua (Jessica) Hilderbrand of Manchester; brother, Langley Watts of California; 20 grandchildren; 11 great grandchildren, and several nieces and nephews.

Reva retired from WalMart after many years of employment.

Memorial donations may be made to the Wilson Children's Home, 300 N. Wilson Drive, West Union, Ohio 45693.

The visitation is from 12 noon until 2 pm on Monday, October 28, 2019 at Lafferty Funeral Home in West Union. The funeral will follow at 2 pm.  Reva will be cremated following the service.
Condolences
Leanna Pollard - Oct 29, 2019
Sam and family, so sorry for your lose. My prayers are with all of you.
Lois Brown Conover - Oct 27, 2019
So sorry to hear this My prayers go out to all the family ....
Ron Gast - Oct 27, 2019
Robert Louis Stevenson said, "Like a bird singing in the rain, let grateful memories survive in time of sorrow." This quote reminded me of her. Reva was a wonderful woman. Whose legacy, to me, is one of generosity. Generous with wisdom, laughter and love. Even in times of strife her generosity never weaned like a bird singing its ballad in the rain. I am grateful to have heard the song.
Dwayne and Jean Curless - Oct 26, 2019
You are in our thought and prayers sorry for your loss
Susie - Oct 26, 2019
Prayers so sorry for your loss Reva was a great person always had a smile for everyone.
Jennifer Rogers - Oct 26, 2019
This breaks my heart. What a sweet lady. I remember our talks up at the registers & in the break room. Reva was one the the sweetest ladies I've ever known. I'm happy & blessed to have the memories.
Sherry L Parks - Oct 26, 2019
I am so sorry to hear this... I sure have a lot of good memories from working with Reva, I will treasure those memories.
Rebecca Sullender Harrison - Oct 26, 2019
So sorry for your lost your mom was a wonderful lady she be truely miss prayers to you and your family God Bless
Jeanie sullender - Oct 25, 2019