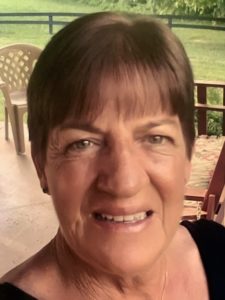 Peggy Sue (Lorenzo) Irwin
January 20, 1958 - November 29, 2019
Peggy Sue (Lorenzo) Irwin, age 61, of West Union, Ohio, formerly of Manchester, Ohio, passed away on Friday, November 29, 2019 at the Hospice of Hope Facility in Maysville, Kentucky.  She was born January 20, 1958 in West Union, Ohio to Clarence and Nancy Lorenzo.

          Peggy is preceded in death by the love of her life and husband of 44 years, Ron E. Irwin; and her father, Clarence Lorenzo.

          Peggy is survived by her two daughters: Judy Lynn Traylor (Larry Bilby) and Melissa Dawn (Stacy) Vinson, both of West Union; four grandchildren:  David Irwin, Wyatt Traylor, Jasmine Traylor, and Khloe Vinson, all of West Union; two great-grandchildren: Maelyn and Sophia Irwin; brother: William Lorenzo of Chillicothe; sister:  Jackie Lewis of West Union; half-sister: Rita Howell of Lucasville; half-brother: Brian Howell; several nieces and nephews; special sisters-in-law and brothers-in-law: Brenda Kinhalt, Connie Bilyeu, Linda Irwin, and Jerry (Carolyn) Irwin; and many special friends.

          Peggy was a former employee of Adams County Hospital and co-owner of Ron's Heating, Cooling, Electric, and Plumbing Services of West Union.  Over the last few years she cleaned for area businesses and people's homes, which she enjoyed.  Peggy attended Northside Church of West Union.

          Memorial donations can be made to Lafferty Funeral Home, Inc., P.O. Box 5, West Union, OH 45693.

          The visitation is Thursday, December 5, 2019 from 11 am until 2 pm at Lafferty Funeral Home in West Union.  The funeral is Thursday at 2 pm.  Pastor Richard Lloyd will officiate. The interment is at West Union Cemetery.
Condolences
Esta Clyta Deborah Carter - Dec 6, 2019
We are so sorry for your loss.
LeAnna - Dec 4, 2019
Judy I am so sorry for your loss. I can not even Imagine what you are going through. Praying for you and your family
Kathy Hanson - Dec 4, 2019
No words can make these coming days any easier. She was a sweet lady always smiling. My prayers are with the family. She and Ron are together. Ever after.
Garri Meeks - Dec 3, 2019
David and I are so sorry for your loss.
Rhonda Prather McDowell - Dec 3, 2019
I am so very sorry for the loss of your mother. I always like both your mom and dad. Such wonderful people ❤️ Prayers ❤️
Jay C. Prather - Dec 3, 2019
My thoughts and prayers are with the family. We've always thought the world of Ron and Peggy and their family.
Donna Daniels - Dec 2, 2019
Girls and your families,I. So very sorry for the loss of your precious momma! It's so sad, she was so young. She loved you all with all her heart. And she fought so hard to stay with you. But God needed her. May she RIP. And many prayers hugs and sympathies to all of you.
Sarilee and Don Williams - Dec 2, 2019
So sorry for your loss. Peggy was a special lady and will be missed by many. Thoughts and prayers for comfort in memories of your dear loved one.
Sandy Grooms - Dec 2, 2019
So sorry for the loss of your wonderful mother. May God comfort you and your families through your time of grief. Sandy
Jeff - Dec 2, 2019
Breaks my heart to hear of your passing. Your smile always lit up the room. I know how much you missed Ron and I find comfort that you both are together again. Sending love to all your family.