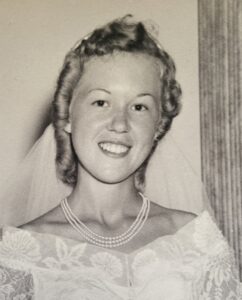 Patricia K. Dolan
December 2, 1933 - March 28, 2023
Patricia Dolan, 89 years of age, of West Union, Ohio passed away March 28, 2023 at the Adams County Regional Medical Center, Hospice of Hope Unit in Seaman. She was born December 2, 1933 in Adams County.  The daughter of the late Coleman and Loretta Mae (Cassel) Copas. In addition to her parents she is preceded in death by her brother: Paul, Forest and Coleman, Jr.; her sisters: Cora Belcher, Celesta Belcher, Helen Neal, Faye Grooms and Thelma Frasher.

Patricia is survived by her son, Stephen Dolan of Chillicothe; sister, Rose Wells of New York and several nieces and nephews.

Patricia worked at the Adams County Hospital in West Union for 26 years. Her favorite pastime was gardening, working in her yard as long as her health permitted.

In lieu of flowers, donations can be made to:

Veterans Services

211 Hopewell House, Chillicothe, Ohio 45601



As per Patricia's wishes, the public graveside service is 1 pm Friday, March 31, 2023 at Copas Cemetery, State Route 125, Blue Creek, Ohio 45616.

Friends can sign online condolences at www.LaffertyFuneralHome.com

Lafferty Funeral Home Incorporated serves the family.

God Saw You Getting Tired

God saw you getting tired.

and a cure was not to be.

So, he put his arms around you and whispered

Come to me.

With tearful eyes we watched you

And saw you pass away.

And although we loved you dearly,

we could not make you stay.

A golden heart has stopped beating,

hard working hands at rest.

God broke our hearts to prove to us

He only takes the best.
Condolences
Tim Caudill - May 14, 2023
GOD REST HIGH SISTER YOUR WORK HERE IS DONE FOR YOUR FAMILY SO SORRY FOR YOUR LOSS .
Patty Hayslip - Apr 3, 2023
I liked Pat she was a perfectionist at her job I admired her I told my Son Jason that preacher her funeral how I admired her
Sandra Mayo - Mar 30, 2023
Aunt Patsy you will be missed God Bless
Barry Grooms - Mar 30, 2023
Aunt Patsy was such a kind, quiet and loving soul. We will miss you and love you, may your reunion be happy.
Sarilee Williams - Mar 30, 2023
So sorry to hear of Patsy's passing. Prayers for her family.
Sharon Ashley - Mar 30, 2023
I remember Pat working at the hospital and recall her gentle care of patients. She was a perfectionist and I could always count on any task Pat performed as one of excellence! Prayers for the family.
Jo Rogers - Mar 30, 2023
Alway enjoyed working with Pat. She was a quiet soul. RIP PAT. Prayers for comfort for her son and family.
Debbie wells - Mar 30, 2023
You will be so missed,RIP Aunt Patsy
Patty Hayslip - Mar 30, 2023
Worked with pat at adams County hospital always admired her she was a good worker condolences to her family
Judy A Laney - Mar 30, 2023
Worked with Pat many yrs ago at old hospital so nice, liked to work with her. So sorry for yoyr loss,thoughts and prayers to family