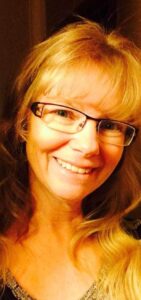 Patricia E. Grooms
June 20, 1967 - March 26, 2023
Patricia E. Grooms, daughter of the late James and Alberta Steward, was born June 20, 1967 in West Union, Ohio and departed this life March 26, 2023 in Seaman, at the age of 55. She is preceded by husband, Michael Grooms and brother James Steward.

Patty is survived by her three daughters (two sonny boys): Melissa (Robby), Carrie and Marcy (Rich); one sister and brother-in-law: Carla and Greg Conley; one nephew: Landon (Jeanna); one niece, Fayelee (Justin); one brother-in-law; four sisters in law; several nieces and nephews; special friends: Nate Lipscomb and Sharron Gifford along with several other loved ones, including many pups and grandpups.

Patty spent 18 years at Hobart and 10 years as a buyer for YSI in Yellow Springs.  She was a girl scout leader for several years.  She loved to hike and be outdoors.  She participated and enjoyed several marathons and charity events.  Patty devoted her life to God, reading her bible every day and attending Free People Church. Her love for God showed in her everyday life. The joy of her life was her three girls.  Patty loved their yearly vacations and quick weekend trips. She was an outstanding mother, caring sister and aunt. She was loved by many and will be missed by all.

The public memorial visitation is 5 – 7 PM Friday, March 31, 2023 at Lafferty Funeral Home Incorporated, 205 South Cherry Street, West Union, Ohio 45693.

The public memorial service is 7 PM Friday, March 31, 2023 at Lafferty Funeral Home Incorporated. Pastor Darrell Myers, Jr. will officiate.

Friends can sign online condolences at www.LaffertyFuneralHome.com

Lafferty Funeral Home Incorporated serves the family.
Condolences
Mark Wysong - Aug 20, 2023
It's been months since you left to go to God. And yet, there's still a cloud over the desk you once occupied. Your name is still spoken fondly within the YSI halls. Most of the time, though, it isn't about work. Patty's smile was infectious - and her wit and compassion were always there when you needed it. She was truly a servant of God. I worked with Patty for many years at YSI. Godspeed, Patty!
Stephanie Meyers - Apr 13, 2023
On behalf of our Forward Technologies team, I extend our sincerest condolences to Patty's family, friends, and her colleagues. Patty has been a joy to work with over the last ten years and we are shocked and saddened by her passing. We have enjoyed getting to know her and experiencing her genuine, friendly manner. She was such an amazing lady and will be sorely missed.
Mike Stoll - Apr 12, 2023
I was sad to hear the news about Patty. She worked for me at YSI. She was a very special person and got along with everyone. I remember her taking her regular walks at lunchtime with her co-workers. She had a great love for her kids and family, which she mentioned in casual conversation. She will be missed. My condolences to her family.
Phil and Vicki Rhonemus - Apr 2, 2023
Dear Grooms and Conley Families, Holding all of you in our prayers and thoughts at this time. Sincerely,
Remy maddela - Mar 31, 2023
Patty, I dearly miss you forever. You were amazingly friendly, made the others feel good, were easy to connect, easy to talk to, always present in the moment to share a laugh, 5k walk, 911 stair climb, or projects at work or anything else. I truly miss you. May your soul rest in peace. Your forever friend, Remy
Mark Lieber - Mar 31, 2023
Patty, I want to thank you for your friendship and all of the good laughs we had over the years. I always enjoyed our walks over to Dollar General and making fun of Jim Muller and his friend fry sharing incident and of course Larry and the banana, among others. I hope you and Larry are having a good laugh. I will miss your loving and caring spirit and the joy you brought to peoples lives. Girls, your mom loved you very much. I'm so sorry for your loss. Mark
Peter Boland - Mar 31, 2023
My heart goes out to the family and close friends, I grieve with you. I worked at YSI with Patty for the past 7 years and she truly has been a blessing in my life. Patty always wore a smile, and had a ready laugh for all. She was so positive, even in the face of adversity - it truly was inspiring. Beyond being such a positive force for good in the world she was absolutely fantastic at her job. She was smart as a whip, compassionate, diligent and patient, knowledgeable and kind enough to teach. She lived her life in a truly Christ like way, and everyone of us bore witness and benefitted from her energy and persona. I am so grateful to have known Patty, and only wish I had known her better. Many blessings to you, especially her daughters who I know she loved so much. The world is truly darker for her passing, but we will reflect her light that she shared and carry on her gift. I miss you Peppermint Patty.
Mike Ross - Mar 31, 2023
Saddened to hear of the passing of Patty. Thoughts and prayers to her family.
Tim Schilz - Mar 31, 2023
Very saddened this week to learn of Patty's passing - way too young. Doing business with her was always pleasant as her care and cheerfulness always came through in our discussions. My deepest condolences go out to all of her family and friends. She will certainly be missed.
Brandon Smith - Mar 31, 2023
It was such a privilege and honor to work with Patty. She was an incredibly smart and caring woman. May her memory live on forever.
Richard E Shockey - Mar 31, 2023
A little sunlight has left this world, but the next is just a little brighter. You are missed!
Michelle Rogers - Mar 31, 2023
I have been beyond lucky to have know Patty. She was someone who could always make you laugh. Somehow we hit it off the day we met. She was my lunch buddy, walking partner, late night on the phone talker. She was a best friend. She was the only person who talked about her kids as much as I do. She loved her girls so much! Our lunch dates (normally at Hot Head Burritos) always lasted longer than we planned and felt like we never had enough time. My life will forever be better because she was in it. She will be greatly missed. I am so sorry for your loss. Remember, A mother is always by your side even when she is gone. She will be forever in your memory and know she loved you three girls very much. Sending caring thoughts and prayers to you and your family. God Bless.
Audrey Lawrence - Mar 31, 2023
Patty was always a bright light in the darkness. She always knew when my day was dark and she would call to bring light. I will miss talking with her but I know that I will see her again. Prayers for peace and comfort.
PAUL C MALETIC - Mar 30, 2023
Knowing Patty is a blessing. Work is better when it included Patty. I will forever remember seeing Patty on her walks outside of work on Brannum Lane. I suspect she enjoyed every step with whoever she was walking with on any given day. So as I pull onto Brannum Lane, I will think of her and that will make my day forever better. Thank you, Patty.
Nick Hayden - Mar 30, 2023
Thoughts and prayers for the friends and family. Patty was a good coworker and admirable person who be sorely missed by all.
Barb Nichols - Mar 30, 2023
I worked with Patty for 10 years at YSI. The first thing that comes to mind, when I think about Patty, is her laughter. She was always so pleasant and fun to work with. She will truly be missed. My thoughts and prayers are with her family. Peace and Love my friend!
Patty Chance Taylor - Mar 30, 2023
My deepest sympathy to family and friends. Although I did not know her personally and reading all of the condolences, I know she was loved and will be missed by many. I pray your loving memories will help ease your pain. Sending prayers. 🙏🏼 Aunt Patty
Logan Haines - Mar 30, 2023
Patty had a wealth of knowledge and a wealth of smiles, both of which she shared freely. She will be missed by all.
Kelley (Doster) Ellinger - Mar 30, 2023
I sincerely loved my interactions with Patty, during my time at YSI. Her smile and positivity made work so much fun, and she could always bring a smile out of anyone. I know she will be missed by the YSI teams, and I am sending prayers to them and to her family - of whom she was so proud. God bless you all.
Johannes Afful - Mar 30, 2023
Wishing Patty's family peace, comfort, courage, and lots of love at this time of sorrow. Patty was a gem at work. (An answer to all my procurement questions). She'll be missed for her devotion to work, kindness & humility. God be with you, Patty.🙏🏾
Aftab Barki - Mar 30, 2023
My condolences go out to the family. I was blessed to work 10 years with Patty here at YSI. She will be missed. May God bless her in Heaven.
Mike Leiss - Mar 30, 2023
I had only worked with Patty for four years, but it didn't take long to see the kind and gentle person she was. She would light up a room when she walked in. Her light-heartedness was infectious, as was her smiles and laughter. My thoughts and prayers will with with all her family and friends in this difficult time.
Daniel Prizznick - Mar 30, 2023
Prayers for the family and friends. She was a great coworker and a wonderful friend. Always laughing and joking, I think I will miss that the most.
Peter Park - Mar 30, 2023
My heartfelt condolences. Patty was a dedicated team member and thoughtful friend. She will be truly missed.
Brett Conyers - Mar 30, 2023
My condolences go out to the family. Patty's laugh and friendship will be missed by me as well as everyone else.
Harry Moresi - Mar 30, 2023
Patty was a tremendous blessing to so many of us. She always shared a smile…or at least had Garfield share her feelings for her. We can share with those around us the smiles, kindness, and determination that Patty gave to us. Prayers for her family, friends, and loved ones.
Mary A Waggoner - Mar 30, 2023
Deepest sorrow for your loss, my friend will be missed greatly.
Mikeal Richards - Mar 30, 2023
I was blessed to work with Patty for her 10 years here at YSI. She was such a wonderful and happy person. Her attitude was infectious. Always laughing and making the best out of even the toughest days. We will miss her dearly. Prayers to all her friends and family during this difficult time. Heaven gained another great one ! God Bless !
Margarita Perez - Mar 30, 2023
My heart goes out to you and your family. Patty was one of my best friends. Such a beautiful person inside and out!! Knowing her was such a Blessing ❤ she always had me laughing for sure!! Our walks and 5ks were never dull that's for sure!! She will be deeply missed by everyone that has had the opportunity to meet Patty. I always would tell her " because Patters Matters" she was my little Patters. ❤❤🙏🏽🙏🏽❤❤
Brooke Obringer - Mar 30, 2023
Patty was a true blessing to have in my life. I had the pleasure of having her as a co-worker, mentor, and friend. We will all truly miss her loving and kind spirit. Sending all of the love and condolences to everyone who had the pleasure of having the opportunity to have Patty be a part of their lives.
Cynthia Garrison - Mar 30, 2023
I am sorry for your loss. I worked at YSI for 12 years and with Patty the whole time. Patty had an Infectious personality. I loved to hear her laugh and she laughed every single day. She had a great personality and I enjoyed talking to her. We will All Miss her here and have great memories of her.
Troy Knight - Mar 30, 2023
I worked with Patty for the last four years. She was a wonderful person we all loved her.
Alejandra Ramirez - Mar 30, 2023
I am so sorry to hear of this unexpected loss. Please accept my heartfelt condolences. I'm going to miss her so much ♥️
Dale and Sharon Strader - Mar 30, 2023
She will be missed by many. Enjoyed working with her at YSI. Prayers for the family and friends.
Lynn Livesay - Mar 30, 2023
I will miss you my friend. You was a great person to work with. Prayers go out to your family 🙏.
John Huebner - Mar 30, 2023
Do to covid I will not be able to attend the service. At Hobart Patty and I worked very closely together. She was very funny to be around. The good ones always leave way to soon. I will miss her greatly.
Susan and Kevin Shupert - Mar 29, 2023
We are so sorry for your loss of Patty- your Mom, sister, and aunt. She was a wonderful person. Prayers and love to all of you and may God comfort you and give you strength and peace through this difficult time. 🙏 💕