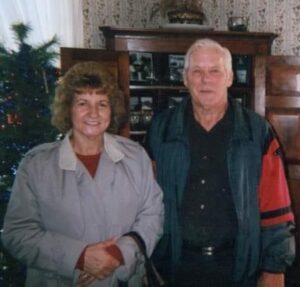 Pastor William "Bill" Myers
May 8, 1943 - December 30, 2020
Pastor Bill Myers has left this earthly life behind, for his heavenly home. To know Bill was to love him.

William "Bill" Myers, age 77, of Blue Creek, Ohio, died Wednesday, December 30, 2020 at his residence.  He was born May 8, 1943 in Meigs Township.  He is preceded by parents, Roy and Mary (Manley) Myers; four brothers: Clyde, Joe, Tony and Charlie Myers and four sisters: Catherine, Margret, Betty and Vernice Myers.

Bill is survived by his loving wife, Darlene (Boldman) Myers of Blue Creek; one daughter, Cathy Ann Myers of Blue Creek; three sons: Billy Joe Myers of Blue Creek, Rickey Dean Myers and Peggy of Blue Creek and Dennis Wade Myers and Donna of Blue Creek; four grandchildren: Sienna Myers of Winchester, Melissa Hackathorn and Corey of Peebles, Clay Myers of Winchester and Brandon Myers of Peebles; one great grandchild, River Myers; one brother, Roy Dean Myers and several aunts, uncles, nieces, and nephews.

He loved church and working for God, he spent over 50 years attending the Churn Creek Church of Jesus Christ, several of which he was the assistant pastor.  He loved his wife, children, grandchildren and great grandchild dearly.

In lieu of flowers, memorial donations can be made to:                                                               Lafferty Funeral Home Incorporated, P.O. Box 5, West Union, Ohio 45693.

The public visitation is 12 – 2 PM Sunday, January 3, 2021 at Lafferty Funeral Home, 205 South Cherry Street, West Union, Ohio 45693.

The public graveside funeral is 3 PM Sunday, January 3, 2021 at Antioch Cemetery, State Route 781 in Meigs Township in Adams County.  Pastor Vincent Wright will officiate.

Due to Covid-19 Regulations, please wear a mask.
Condolences
Connie Myers - Jan 3, 2021
I will miss him dearly. He could preach the gospel and have that twinkle in his eye as he would talk about the love he had for his Lord and Saviour Jesus Christ .He always took care of his family and was a true soldier for Jesus. I'm sure he is singing with the Angels. I love you Uncke Bill and will never forget you.
David hayslil - Jan 2, 2021
Bill was good man help me in my time need with family know him since I was kidhe will be missed
Darlene Mahon-Howser - Dec 31, 2020
My thoughts and prayers go out to Bill's family and friends🙏🙏 Rest in Paradise Bill
Larry Cox - Dec 31, 2020
Good man I Will miss him Sad day
Jimmy Crum - Dec 31, 2020
Prayers 🙏
Tracey Lyons - Dec 31, 2020
My Uncle Bill Myers was a very special person. He was always happy. I don't think I ever seen him without a smile. He never strayed in his faith with God. He will terribly missed but he is in a better place then us all. My prayers go out to the Myers family and God Bless.
Sarilee Williams - Dec 31, 2020
So sorry for your loss. Prayers for comfort in memories.
Elly Estle - Dec 31, 2020
I truly pray for Comfort and a peace BEYOND understanding, may God be your Strength and keep you wrapped in his loving Arms , our Deepest Condolences in JESUS NAME Amen
Nancymalone - Dec 31, 2020
RIP brother bill I'll sure miss you. But I know I'll see u again my friend