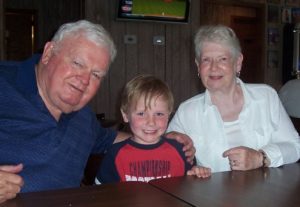 Nancy Jo (Blake) Thompson
February 19, 1941 - June 27, 2018
Nancy Jo (Blake) Thompson, 77, was born February 19, 1941, at Jewish Hospital in Cincinnati, Ohio, the daughter of Denver Blake and Nan (McGovney) Blake.  Nancy lived in Liberty Township until she was five, and after her father's death, she moved with her mother and her brother, Robert to West Union where they resided with her grandmother, Sarah Elizabeth McGovney.

Nancy attended school in West Union, graduating in 1959.  She went to the Ohio University where she earned an education degree in 1963, and then began her teaching career in New Richmond, Ohio.  She later earned her Master's degree in Library Science, continuing her passion for educating young students and sharing her love of reading with them.

Nancy married Thomas Thompson, United States Air Force on June 26, 1965, in the First Presbyterian Church of West Union, and began married life in Germany where Tom was stationed.  They welcomed a daughter Annie and a son J.B. into their lives, completing their family.  During their 53 years of marriage they lived in several locations, with Southern Pines, North Carolina, as their primary home. They recently moved to a retirement home in Winston, North Carolina.

Wherever Nancy lived, she shared her enthusiasm for education and reading, whether with young students at local and school libraries, or with older readers in book clubs.  Nancy loved continuing her personal education by traveling with Tom to countries where he had been stationed during his military career.  She particularly enjoyed visiting her son and daughter and family wherever they resided through the past 20-some years.  The highlight of her life was her grandson, Marshall and she was delighted that he shared her love of books.  As long as health permitted, she and Tom shared vacations with school friends, exploring various cities and traveling to new areas together.

Nancy passed away June 27, 2018, at the Wake Forest Baptist Hospital in Winston-Salem, North Carolina.  She was preceded in death by her parents, Denver and Nan Blake, her daughter-in-law, Casey Thompson, and her sister-in-law, Eilene Blake.

Nancy is survived by her husband, Major Thomas Thompson, United States Air Force, retired; her son, Lieutenant Colonel John Blake "J.B." Thompson, United States Air Force, of Fort Belvoir, Virginia; her daughter and son-in-law Elizabeth Ann and Edwin Combs and her much loved grandson, Marshall Edwin Combs, of Winston-Salem, North Carolina; and her brother, Robert Blake and his family of West Union, Ohio.  Also surviving are many nieces, nephews, cousins and dear friends.

Nancy's life will be honored at 11 AM on Monday, July 2, 2018, at a graveside funeral service at Kirker Cemetery in Liberty Township near West Union, Ohio.  Reverend David Sugarbaker will officiate.

Lafferty Funeral Home in West Union, Ohio is serving the family.










Condolences
Phillip and Vicki Rhonemus - Jul 11, 2018
Dear Thompson and Blake Families, Our thoughts and prayers continue with each of you at this time. Sincerely,
Coletta Crockett - Jul 5, 2018
I had the pleasure of meeting Nancy upon move in here at the retirement area. She was such a amazing and well educated lady. She definitely will always hold a place in my heart.
Elaine and John T - Jul 4, 2018
We treasure our memories of you, Nancy. What a wonderful friend you were to us.
Nancy Chattoraj - Jul 1, 2018
Rest In Peace my dear friend of 72 years.
Barbara Melton Toole - Jul 1, 2018
Annie, so sorry to here about your mother. She was such a wonderful and caring person. I cherish the memories I have of her. Love to you and your family.