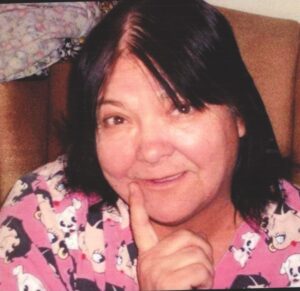 Myrtle Alice Strange
February 14, 1949 - August 5, 2023
Myrtle Alice Strange, 74, passed away Saturday, August 5, 2023 at Hospice of Hope in Maysville, Kentucky.  She was born February 14, 1949 in Manchester, Ohio.  She is preceded in death by her life partner, Billy Armes; one son, Clifford Minor Shelton; two daughters: Mary Alice Strange and Billie Jean Lykins; one great granddaughter, Shawna Breeze; parents: Minor Clifford and Mary Jane (Taylor) Shelton; four brothers: Clifford Shelton, Don Shelton, David (Pee Wee) Shelton and Gene Shelton and two sisters: Lareana Valdez and Laveana Strunk.

Myrtle left behind four loving children: Angie (John) Robison of Cincinnati, Morgan (Virginia) Armes of Loveland, Billy Armes Strange of Cincinnati, and Pricillia Strange of Aberdeen; two brothers: Bob Shelton of Mt. Orab and Carl (Tracie) Shelton of West Union; numerous grandchildren, several great grandchildren, many nieces and nephews.

Myrtle will be remembered by all who knew her.  She was a loving mother, grandmother, aunt, sister and friend.

In Lieu of flowers, memorial donations can be made to:

Lafferty Funeral Home Incorporated

P.O. Box 5, West Union, Ohio 45693

or

937-544-2121

The private service will be held at the convenience of the family.

The private interment will be at Manchester Cemetery.

Friends can sign online condolences at www.LaffertyFuneralHome.com

Lafferty Funeral Home Incorporated serves the family.
Condolences
Hazel west - Aug 10, 2023
You was a sweet person n you sure will be missed u did Alot for anyone n everyone ur family was ur world to u n I'm sorry I couldn't be there just no ur always in my heart n I know how ur kids r feeling love always Hazel west
Denise Estep - Aug 9, 2023
I will miss you Myrtle..Many memories with you years ago in Manchester with PeeWee, Lois, your mom and many others.. you truly are loved beyond words!
Lisa Lykins Jacob Morgan & kids - Aug 9, 2023
Grandma we love & miss you dearly. Just know we would be there if we could. I love you 💕 rest in paradise granny 🕊️🫶