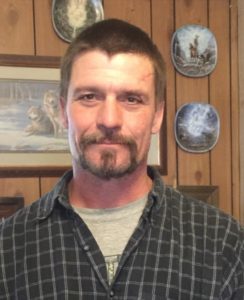 Maverick Jayson Lewis
February 26, 1974 - October 13, 2019
I know your life on earth was troubled and only you could know the pain.  You weren't afraid to face the devil, you were no stranger to the rain.  Go rest high on that mountain Son, your work on earth is done.

Maverick Jayson Lewis, 45, of Lynx, Ohio passed away on Sunday, October 13, 2019 at his home. He is preceded in death by his wife, Reba Diane (Heisler) Lewis.  Maverick is survived by his children, Elliott Bryant of Cedar Mills, Ohio, Zeblin Lewis of Lynx, Shanna Stamper of Winchester, Ohio, and Rivers Lewis of Lynx; parents, Steve and Barbara Lewis of Lynx; brother, Shannon (Destaney) Lewis of West Union; grandson, Lincoln Davenport of Winchester; two aunts; seven uncles; three nieces and one nephew.

Maverick was a skilled carpenter known for his work in the area.  He attended the East Liberty Church in Lynx.

Maverick will be cremated with services held at the convenience of the family. Memorial contributions may be made to Friends of Tiny Hearts, c/o Tricia Mullins, UC Medical Center, 234 Goodman Street, Cincinnati, OH 45219, email triciamullins@uc.edu.
Condolences
Julie whaley - Nov 19, 2019
You were there since day one...always when I needed u the most...love you Maverick...May u finally be at peace...
Phillip and Vicki Rhonemus - Oct 22, 2019
Dear Lewis Family, Keeping all of you in our thoughts and prayers at this time. Sincerely,
Tammy Lewis Jenkins - Oct 22, 2019
He's only gone ahead of you, Not just left you behind Although you can't be with him right now He lives on in your HEART and MIND The day will come when you'll meet again On HEAVEN'S distant shore And WE ALL as a FAMILY Will walk hand in hand TOGETHER forever more
Rhonda Henderson - Oct 17, 2019
Sorry for your loss maverick was a great guy .sure will be missed.
Elizabeth Beasley - Oct 17, 2019
RIP my friend. I will never forget all the great times we had! My prayers go out to all family and friends.
Lisa Grooms - Oct 16, 2019
A few years ago, I found myself homeless. Maverick was one of those few souls who cared, and he picked me up no questions asked and gave me a place to stay indefinitely. he may have had his faults, like the rest of us, but he had a good heart and in the end what else really matters? My thoughts are with his family, children, and those who loved him.
Raedena Vogler - Oct 16, 2019
Always a fun guy to be around. Such great talent. May you rest in peace.
Michelle Taylor - Oct 16, 2019
PRAYERS FOR HIS FAMILY AND FRIENDS!
Rebecca Thornberry - Oct 16, 2019
I knew Maverick all through school. I am truly sorry for your loss. I pray that all of you find peace through this emotional season of your lives.
Beverly Shiveley - Oct 16, 2019
Me and Maverick went to school together, was always friendly and had a heart of gold, I am so sorry for your families loss, you all in my thoughts and prayer's
Robin Bayless - Oct 16, 2019
Thoughts and prayers are with you all...😔
Nita Lewis - Oct 16, 2019
Hugs and prayers🙏 So sorry for your loss
Anita O'Cull - Oct 16, 2019
So sorry for your loss. I knew him to be a very nice guy. Prayers for the family.
Debi Lewis Hiatt - Oct 16, 2019
Sincere condolences to Mavericks family. May he Rest In Peace 🙏🏻
Carey Dillow Collier - Oct 15, 2019
Rip Mave. I'll never forget our good times together through high school. Hard to believe you are gone. Please find peace.
Julie Burris - Oct 15, 2019
Prayers for all the family so sorry for your families loss. Will miss seeing maverick in church with his son zeb