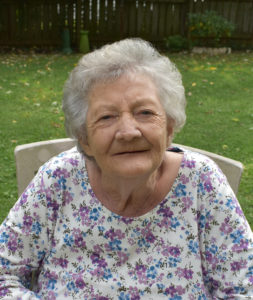 Mary (Thatcher) Rothwell
April 12, 1933 - December 5, 2019
Mary (Thatcher) Rothwell, 86, of Brush Creek Township in Adams County, Ohio died Thursday, December 5, 2019 at Adena Regional Medical Center in Chillicothe.  She was born April 12, 1933 in Green Township in Adams County. She was preceded by her parents, Benjamin Norman Thatcher and Mamie Marie (Baldwin) Thatcher.

Mary is survived by one son, Buck Rothwell of Lynx; one daughter, Debbie (Steve) Kepp of Chillicothe; one sister, Wilma (Doug) Ward of Unity in Oliver Township in Adams County; five grandchildren, eleven great-grandchildren, two great great-grandchildren, and many nieces and nephews.

Mary was a former housekeeper.  She was a member of Mt. Armenia Church in Brush Creek Township.

The visitation is Sunday, December 8, 2019, from 1 until 3 pm at Mt. Armenia Church, Mahogany Road in Brush Creek Township.

The funeral is Sunday at 3 pm.  Pastor Pete Francis will officiate.

Interment is at Mt. Armenia Cemetery in Brush Creek Township.

Lafferty Funeral Home, Incorporated of West Union is serving the family.
Condolences
Phillip and Vicki Rhonemus - Dec 14, 2019
Dear Rothwell Family, Keeping each of you in our thoughts and prayers at this time. Sincerely
Wanda Baldwin - Dec 8, 2019
Aunt Mary was a special woman, she always had a kind word for everyone she met. She was loved and cherished by her family and friends. She will be missed by all!
Cheryl Francis - Dec 8, 2019
Debbie and buck thinking of you and sending prayers mary was a sweet soul always had a smile on hef face . she is flying with the Angeles now..god bless you all..