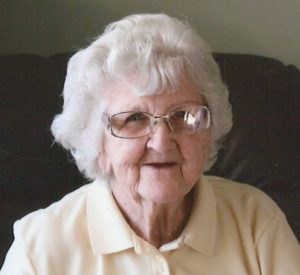 Martha (Weaver) Becraft
June 22, 1931 - December 7, 2017
Martha (Weaver) Becraft, 86, of West Union, Ohio passed away Thursday, December 7, 2017 at the Hospice of Hope Ohio Valley Inpatient Center in Seaman, Ohio. She was born June 22, 1931 in Madisonville, Indiana. She was preceded in death by her parents, Charles and Lucinda (Shively) Weaver, husband, Charles Becraft and two sons, Leonard and Glenn Becraft.
Martha is survived by one son, Charles Becraft and wife Dottie of West Union.
She was employed at the Frank Simpson Company in Madisonville for over 25 years. She was a member of the Bible Baptist Church in West Union, where she enjoyed the love and friendship of the congregation.
In lieu of flowers, donations may be made to Hospice of Hope Ohio Valley,215 Hughes Boulevard, Mt. Orab, Ohio 45154.
The visitation is 11 am until 12 pm Monday, December 11, 2017 at Lafferty Funeral Home in West Union. The funeral service is at 12 pm with Pastor Tim Carter officiating. A private burial service will be at Graceland Memorial Gardens in Milford, Ohio.