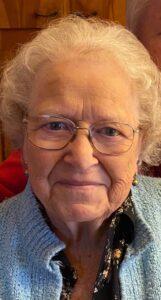 Martha "Grace" Gaffin
May 14, 1930 - July 5, 2023
Martha "Grace" Gaffin, 93, of West Union, Ohio passed away on Wednesday, July 5, 2023 at The Adams County Manor in West Union. She was born May 14, 1930 in Adams County.  She is preceded in death by parents: Jessie and Kate (Wiles) McNulty; six brothers: Lloyd, Ralph, Robert, Jesse, Ben and Bill McNulty and two sisters: Ruth Haynes and Nellie Gilkison.

Grace is survived by her devoted husband of 72 years, Lavonne Gaffin of West Union and son, Victor (Jim Hart) Gaffin of Cincinnati.

Grace graduated from Manchester High School in 1948.  She worked at the Hercules Trouser Company in Manchester until she became a mother.  She dedicated her life to her family and their farm.  She was a wonderful cook and loved her cats.  She hosted the McNulty Family Reunion for over 40 years.  She attended the Brier Ridge Christian Union Church until her health wouldn't allow.

The public graveside funeral and interment is 2 PM Monday, July 10, 2023 at Manchester Cemetery, 813 East 8th Street, Manchester, Ohio 45144. Reverend Joe Gilkison will officiate.

Friends can sign online condolences at www.LaffertyFuneralHome.com

Lafferty Funeral Home Incorporated serves the family.
Condolences
Phil and Vicki Rhonemus - Aug 7, 2023
Dear Lavonne and family, Continuing to keep you in our thoughts and prayers as you remember Grace. It was good to converse with Grace and yourself this past Mother's Day as I was making my floral rounds. Grace will be missed. Sincerely,
Ronda Baker - Jul 8, 2023
Our condolences to Lavonne and the family. We are all going to miss this sweet lady, rest gently Miss Grace. Love Ronda and H.C Baker and family.
KATHRYN M RADY - Jul 8, 2023
Much love and God's grace to you and Jim. She must have been like a mom to him, too. What a blessed life! Kat
Lynn Bowman - Jul 8, 2023
Dear Victor, To you and your family my sincere condolences on the loss of your mom.
Tim Gaffin - Jul 7, 2023
Lavonne, I'm so sorry for the loss of Grace. Sending prayers your way for you and your family.
Jai Scott - Jul 7, 2023
Sending our deepest condolences to you your dad, Jim and your entire family. We never met her, but hope someone the loving memories you've shared about her bring you guys solace in time.
Kevin, Jen, Abner and Oskar - Jul 6, 2023
We're so very sorry for your loss. Our family will keep your family in our thoughts and prayers.
John T and Elaine Lafferty - Jul 6, 2023
Mr. Gaffin, we send our sincere sympathy to you and your son. Grace was such a lovely lady, and we know that many happy memories of her will comfort you. Elaine and John T.